Editor`s Note:
Tuesday December 12, 2017
---
UCI WISHES OUR READERS AND ACTIVISTS
A HAPPY HANUKKAH!
The Holidays are a time of Hope and Joy, a much needed respite from the fast and furious pace of this earthly world.
We wish you a meaningful and safe celebration.

See our MOVE page for 2 fantastic reports on PM Netanyahu's European Tour! CLICK HERE.



Click here to view our
uc4i.org/news home page
3 up-to-date news reports


Or go directly to your favorite channel below!

---

The Unity Coalition for Israel provides comprehensive news research from a variety of news sources for the daily monitoring of attacks against Western Democracy and the State of Israel. Many times this conservative news is not featured in mainstream media. Your tax-deductible donation will help us continue to publish this newsletter on Israel and global Jihad. Please support our work with a secure paypal donation (click here) or send a check payable to UCI to 3965 W 83rd St 3965 W 83rd St., #292, Shawnee Mission, KS 66208. Thanks for your support!
We encourage you to forward our newsletters to your friends and other interested individuals and organizations. Click here to use our newsletter forwarding system
---
---
Menorah lightings planned around the world for Hanukkah
Associated Press
WASHINGTON POST

, December 11, 2017

FILE - In this Dec. 27, 2016, file photo, a giant Hanukkah menorah, center, set up by the Jewish Chabad Educational Center, is illuminated at the Pariser Platz in front of the Brandenburg Gate in Berlin. Menorah lightings are planned there again this year for Hanukkah, which begins Tuesday, and at other landmarks and destinations around the world. (Markus Schreibe, File/Associated Press)

Public menorah lightings for the Jewish holiday of Hanukkah are planned around the world in locations ranging from ski towns and Caribbean islands to famous landmarks and sports arenas.
Hanukkah begins Tuesday night and lasts for eight days.
If you're traveling or vacationing during the holiday, there may be a menorah lighting near you. The Jewish outreach organization Chabad-Lubavitch plans Hanukkah events in hundreds of cities, from the 50 U.S. states to 100 countries.
Celebrations in Vail, Colorado, will include menorahs made from skis. In New Mexico, organizers hope to create a one-of-a-kind menorah made from hot-air balloons on Dec. 17 in Albuquerque's Balloon Fiesta Park, which hosts the International Balloon Fiesta each October. Vacationers in destinations like Cancun, Mexico, and Aruba will also have menorah lightings to attend, along with one in Curacao, home to the oldest synagogue in the Western Hemisphere dating to 1732.
Many ceremonies will take place in front of landmarks, including the White House in Washington, D.C., Eiffel Tower in Paris, the Kremlin in Moscow and Germany's Brandenburg Gate. London's Trafalgar Square will host a 30-foot (9-meter) menorah outfitted with specially designed environmentally friendly bulbs, commissioned by the London Climate Change Agency.
The world's largest menorah, standing 36 feet high (11 meters), will be lit just outside Central Park in New York City across from the Plaza Hotel at Grand Army Plaza. That menorah lighting began in 1977 and marks its 40th consecutive year this month.
Sports arenas are also hosting Hanukkah events, including the NBA arenas of the Brooklyn Nets, Orlando Magic, Miami Heat, Houston Rockets, Dallas Mavericks, Golden State Warriors, Phoenix Suns and Atlanta Hawks; the NHL arenas of the Arizona Coyotes, New York Islanders, Nashville Predators, Tampa Bay Lightning, New Jersey Devils and Columbus Blue Jackets; and the NFL stadium of the Tampa Bay Buccaneers. Thousands of people are expected Dec. 18 for a Hanukkah concert and menorah lighting at Gulfstream Park, the horse racing track in Hallandale Beach, Florida, near Miami.
Elsewhere around the world, events are expected in countries ranging from Australia to Laos to Uganda to Argentina.
Listings by location may be found at http://www.Chabad.org/HanukkahEvents
---
Hundreds of Thousands in Rabbi Shteinman's Funeral in Bnei Brak
David Israel
JEWISH PRESS

, December 12, 2017

Rabbi Aharon Leib Shteinman's funeral procession in Bnei Brak, Dec. 12, 2017.
Hundreds of thousands of people are participating today, Tuesday, in the funeral of Rabbi Aharon Leib Shteinman, leader of the ultra-Orthodox Lithuanian community who passed away at the age of 104. Large police forces are guarding the funeral and blocking roads in the area. Police estimate that 600,000 people are participating in the funeral procession.
President Reuven Rivlin addressed Rabbi Shteinman's death and said that "he has charted a path for countless Jews and his death leaves a deep sense of orphanhood today."
Opposition Chairman MK Isaac Herzog also expressed regret over Rabbi Shteinman's passing and said that he shares "in the tremendous pain of a large public who mourn the passing of one of the greatest rabbis of Israel."



Rabbi Aharon Leib Shteinman's funeral procession in Bnei Brak, Dec. 12, 2017. / Yonatan Sindel/Flash90
Rabbi Shteinman's death was determined on Tuesday morning at the Mayanei Hayeshua Medical Center in Bnei Brak, and his funeral procession left his home in Bnei Brak in the direction of the Beit Hayim cemetery, where he will be buried.
According to Channel 1 News, during the transfer of the body, tens of thousands of followers surrounded the ambulance, and some climbing on top of nearby bus shelters. Police warned that the massive crowds posed danger to the elderly and to children, and asked the public attending the funeral to act with extreme caution.
Route 4, leading north from the Jerusalem highway, was closed to traffic near Bnei Brak from 10 AM to 6 PM.


---
Ibrahim Munir, the Man Who Keeps the Muslim Brotherhood Alive
Hany Ghoraba
Special to IPT News

, December 12, 2017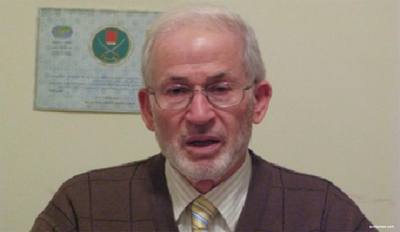 Among the lesser known, yet most influential leaders of the Muslim Brotherhood organization is the Egyptian-born British national Ahmed Ibrahim Munir Mustafa. Known simply as Ibrahim Munir, he is the global Brotherhood's secretary general and interim supreme guide.
The Brotherhood faces a great succession dilemma with many of its Egyptian leadership jailed and facing trials. A controversial old Islamic jurisprudence fatwa states that captured men or prisoners of wars cannot lead their nation or groups. Accordingly, incumbent Supreme Guide Mohamed Badie cannot lead the group while he is in an Egyptian prison.
Several names were mentioned as a possible new supreme guide, among them Mahmoud Ezzat, a leading Brotherhood member since the 1960s, who is believed to be in hiding in Gaza and is wanted by Egyptian authorities for allegedly orchestrating the violence taking place in Egypt. But Ezzat announced in 2016 that he did not want the title and recommended Ibrahim Munir.
But group members and leaders in Egypt question the 80-year-old Munir's leadership abilities as they fight against the Egyptian state and wish to substitute him with a wartime general guide. Younger members who followed the late Brotherhood leader Mohamed Kamal indicated their desire for a more vicious supreme guide. While the Muslim Brotherhood leadership tried to keep the news of the succession war a secret, the divisions and resignations have rocked the group and shattered any image of unity.
The double messages
Among his Brotherhood duties, Ibrahim Munir supervises the content of IkwhanWeb, the group's English-language website, and its weekly journal Risalat al-Ikhwan. English-language statements tend to be much more sanitized and tolerant than what the Brotherhood tells its Arabic-speaking audience.
Munir followed the taqqiya principal – a precautionary concealment or denial of religious belief and practice in the face of persecution – in all his English language communications with the media and United Kingdom politicians. The Brotherhood is a Sunni movement with a Salafist tradition, while taqqiya remains a practice found in the Shiite denomination of Islam.
For example, Munir told a British Parliament committee that sharia laws tolerate apostates, but that statement contradicts the beliefs and teachings of Brotherhood founder Hassan al-Banna. It also avoided answering questions about the Brotherhood's positions toward minorities such as homosexuals.
An example of the Brotherhood's dual messaging came in September 2012 when a group of Islamists led by the Muslim Brotherhood stormed the American Embassy to protest what was dubbed as an anti-Islamic movie. In Arabic, they called upon all "Egyptians to rise to defend the Prophet" in a million-man march directed towards U.S. Embassy in Cairo. Munir's London-based IkhwanWeb, on the other hand, tweeted a statement from deputy head Khairat Al Shater: "relieved none of @USembassycairo staff were harmed," while expressing hopes that Egyptian-American relations could weather the storm. However, the U.S. Embassy in Cairo twitter account mocked the tweet in English: "Thanks, by the way, have you checked your own Arabic feeds? I hope you know we read those too."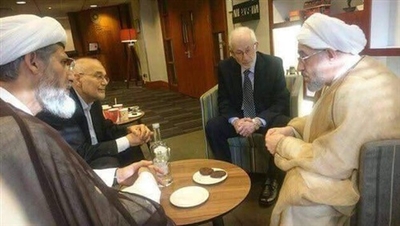 Ibrahim Munir meets in London last July with Ayatollah Khamenei's personal representative Mohsen Araki.

Despite their following different religious denominations the Muslim Brotherhood and Iran have had relations for decades, as many Brotherhood leaders frequently visit Iran as guests of the regime. The first meeting between Brotherhood founder Hassan al-Banna and Ayatollah Khomeini, the supreme leader of the Islamic revolution took place in 1945 – more than three decades before the 1979 Islamic revolution. Moreover, the only time an Iranian president visited Egypt after the revolution came during Mohamed Morsi's ill-fated one-year reign in 2013 when Mahmoud Ahmedinejad traveled to Egypt. Munir, along with other Brotherhood officials, have maintained strong ties with Iranian leaders. During a July conference on Islamophobia, Munir was among Brotherhood members to meet in London with Ayatollah Ali Khamenei's personal representative, Mohsen Araki....
---
---