Israeli-Palestinian Shared Economy in Jerusalem's Malcha Mall
Video published on Mar 5, 2014 by the Jerusalem Jerusalem YouTube channel – I Love Jerusalem! Malha Mall, also known as Jerusalem Mall, is an indoor shopping mall in the southwestern neighbourhood of Malha, Jerusalem (or "Malcha") near the technology park, Teddy Stadium and the Biblical Zoo. The mall has many great stores for adults and for kids, a monthly calendar of kids events (FREE), a small gymboree for babies & toddlers and lots of great restaurants. For more info – visit the Malha Mall page of Facebook HERE.
Article below from Bloomberg.com –
Big Changes Are Reshaping Jerusalem
Alienated young Arabs are increasingly finding work in Jewish parts of the city, which helps to curb violence.
Jerusalem's Malcha mall was bustling with activity as workers mixed with shoppers, setting up stands decked out with balloons and preparing cotton candy booths for an afternoon gala celebrating the shopping center's 25th anniversary.
At one of the clothing stores, a 22-year-old sales clerk in jeans and a sweater named Ro'aa was unpacking new merchandise from a cardboard box. As she answered customer questions in fluent Hebrew, she slipped jeans, skirts, and blouses out of plastic bags, refolded them so the creases matched and organized them for shelving.
Then she explained to two visitors, in her native Arabic, why she works in a Jewish area of west Jerusalem, rather than in east Jerusalem, where she lives, as do most of the more than 300,000 Arabs of Jerusalem.
"I tried to work several times on the Arab side, but it didn't work out," said Ro'aa, who declined to allow her family name to be used because of the sensitivity of the subject. "There were no benefits, my salary was always two months late. On the Israeli side you get paid more and receive all your benefits, and if they see you are working hard you get promoted."
Ro'aa is a symbol of how economics is reweaving the tapestry of the fractious city. She and an increasing number of young Arabs like her are finding more professional opportunities in the Jewish quarters of Jerusalem. That helps explain in part Jerusalem's relative calm in the wake of U.S. President Trump's Dec. 6 decision to recognize the city as the capital of Israel, especially in contrast with violent demonstrations the West Bank, Gaza Strip and other parts of the Arab world and even Europe. Even though the young Arabs of east Jerusalem strongly oppose the embassy transfer, they don't want to undermine opportunity with violence.
"We want to create a better life for our residents," said Hussam Watad, manager of the community center in the Beit Hanina neighborhood of east Jerusalem, which offers Hebrew classes and is supporting lawsuits against the city demanding better infrastructure. "We want to show a rosier future to those now so overcome with despair that they see the only way out is stabbing an Israeli soldier."
The number of employed east Jerusalem Arabs is rising, salary gaps with the city's Jewish population are narrowing, more are learning Hebrew—6,000 currently study the language in classes—and registration at higher education institutions in the western sector is up. City Hall has established an employment center in east Jerusalem and plans a second one. There are even growing applications for citizenship, said Ben Avrahami, the mayor's adviser for east Jerusalem affairs. This from a population of permanent residents that can file for social security benefits but doesn't have the right to vote in national elections.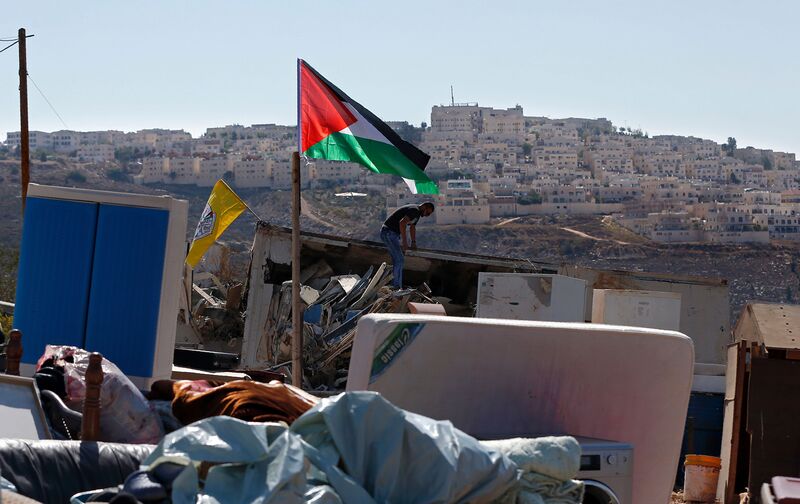 "It is dripping into the consciousness that Israel is a reality and that if east Jerusalemites want to improve their lives, they might be willing to pay the price of integration," Avrahami said, adding that the city is doing what it can to improve infrastructure and lives in the Arab areas.
East Jerusalem Arabs have lived on a tightrope since Israel captured the sector from Jordan in the 1967 Middle East war and annexed it in a move never internationally recognized. They have Israeli residency that gives them freedom of movement within Israel that West Bank Palestinians are denied, but they hold no passport. They say they recognize the Palestinian Authority before Israel, but their government of choice has no power over the place where they live.
Their neighborhoods have seen neglect for decades. Teddy Kollek, the city's mayor from 1965 to 1993, acknowledged it as one of his major oversights.
Beit Hanina, which is divided into two by Israel's security barrier through the West Bank, has two city-built playgrounds for its children; the adjacent Jewish east Jerusalem neighborhood of Pisgat Zeev, with a comparable population, has more than 50, Watad said. There aren't enough classrooms: The Arab sector needs another 2,000.
Marik Shtern, a researcher at the Jerusalem Institute for Israel Studies who has delved into the economic gap, says that the city's Arabs remain underrepresented in knowledge industries where the salary is higher, although there are signs this is changing. They are principally salespeople, security guards and call-center employees. Even so, both sides gain from the economic interchange.
"The thing that holds the city together from fragmentation is the economy and the shared interest both sides have in this dual economy," Shtern said. "The Palestinians are dependent on the Israelis for a source of income and the Israelis are dependent on them as workers. In some way this stabilizes the situation and keeps it from deteriorating into war in the streets."
Jerusalem has often been a focal point for violence and some assailants have come from its eastern Arab neighborhoods. Nowhere is the tension more visible than in the Old City, whose 500-year-old cream stone wall encloses enclaves that house sites holy to Jews, Christians and Muslims. At the Damascus Gate, shoppers must pick their way cautiously past three border police posts put up in recent weeks to prevent violence.
Shop owners say revenue has fallen since Trump's announcement, possibly because tourists and other potential shoppers are avoiding an area known as a flashpoint for violence.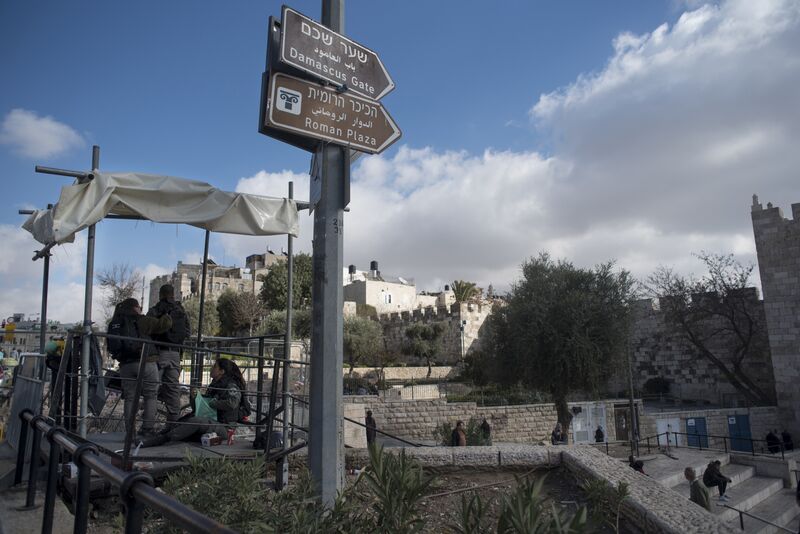 "I had to let go of four of my employees," said clothes merchant Sobhi al-Halhouli, 28, from the east Jerusalem neighborhood of Shuafat. "People don't come here anymore. They are afraid and the situation isn't going to get any better."  He won't participate in any demonstrations for fear it will hurt his business.
At the mall 7 miles away, Ro'aa says she's not going to stop at selling women's clothing. She's waiting to hear if she got an entry-level job at Bank Hapoalim, one of Israel's top banks. Her sister works for mobile provider Cellcom and everyone in her family, she said, works on what she calls "the Israeli side."
Read the original article on Bloomberg.com HERE.
(If you share this article with our sharing tools below, the above image will appear with the link.)