George H.W. Bush, a president with a complicated Jewish legacy, dies at 94
President George H.W. Bush speaking in 1993. (Jewish Chronicle/Heritage Images/Getty Images)
By Ron Kampeas for JTA.org, December 1, 2018 –

WASHINGTON (JTA) – George H. W. Bush, the one-term president whose public grappling with Jewish leaders made headlines while his private interventions helped bring tens of thousands of Jews out of danger, has died.
Bush, 94, died Friday at his home in Houston, his family said, less than a year after his beloved wife, Barbara, died.
Bush's failed 1992 reelection bid marked a low point in relations between Republicans and the Jewish community. Bush scored just 11 percent of the Jewish vote in that contest, one-third of what he garnered four years earlier, his 1988 victory over Michael Dukakis.
The Bush presidency was marked by tensions both with Israeli Prime Minister Yitzhak Shamir and the American Jewish leadership.
In 1991, Bush lashed out at pro-Israel activists who had flooded Congress in response to the president's reluctance to approve loan guarantees requested by Israel to help absorb hundreds of thousands of Jews from the just-collapsed Soviet Union.
Bush called himself "one lonely guy" battling "a thousand lobbyists on the Hill." Jewish leaders resented the insinuation that the pro-Israel community was possessed of a power sinister enough to unsettle the leader of the free world as borderline anti-Semitic. The "one lonely guy" comment haunted Bush thereafter, with even Republican Jews apt to use the first Bush presidency as a signifier of how far they had traveled in attracting Jewish support.
Yet, that was hardly the whole story. Less remembered was how, as Ronald Reagan's vice president, Bush quietly helped engineer some of the pivotal moments in the effort to bring Jews out of the former Soviet Union, Ethiopia and Syria.
"When you add up the Jews he saved, he will be a great tzaddik," Abraham Foxman, the Anti-Defamation League's former national director, said in 2013, using the Hebrew word for "righteous man."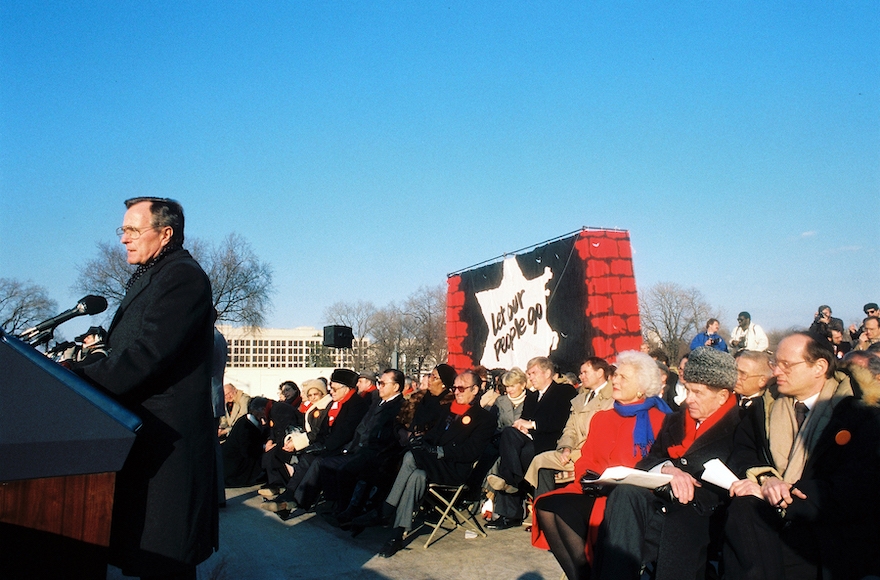 Bush was deeply involved in foreign policy as vice president, and Jewish leaders said he helped orchestrate the dramatic seder hosted by Secretary of State George Schultz at the American embassy in Moscow in 1987.
He also ignored advice from much of his national security team in 1991 – the very period when he was in the throes of his most difficult arguments with Jewish leaders – and approved American overtures to the Mengistu regime in Ethiopia that resulted in Operation Solomon, which brought 15,000 Jews to Israel. Among other things, Bush secured a "golden parachute" for Mengistu Haile Mariam, the dictator who was already plotting his escape to luxurious exile in Zimbabwe.
Bush was also instrumental in persuading Hafez Assad, the Syrian dictator, to allow young Jewish women to leave Syria for New York so they could be matched with men in the Syrian Jewish community.
While some of these actions were secret at the time, Bush was averse to claiming responsibility even in subsequent years.
"He was a man who was old school," said Marshall Breger, who was the liaison to the Jewish community under Reagan and Bush. "With him, you had the sense of him being private about his feelings and sensitive to the notion that he might be seen as vain and saccharine towards other with overstatements."
CLICK HERE to read the remainder of this extensive report on JTA.org.