Greenblatt says peace plan to focus heavily on 'Israeli security needs'

US Middle East envoy Jason Greenblatt dismissed the idea of a three way confederation between Israel, Jordan and the Palestinians as part the long awaited Middle East peace plan, Times of Israel (TOI) reported on Monday.
"We're not looking at a confederation model," Greenblatt told TOI in an interview.
The idea of bringing Jordan into a solution to the Israeli-Palestinian conflict has been raised numerous times since the 1967 war, most recently by Palestinian President Mahmoud Abbas who told Greenblatt and US President Donald Trump's son-in-law and senior aide Jared Kushner that he wants a three-way confederation with Jordan and Israel.
The peace plan, which according to Trump will be ready within two to four months, will address all core issues, Greenblatt told TOI.
"It (peace plan) will include a resolution to all of the core issues, including the refugee issue, and will also focus on Israel's security concerns. In fact the proposal will be heavily focused on Israeli security needs," he said.
Trump has said he expects Israel to make concessions in any final settlement of the decades-old conflict, the Palestinians contend that his administration's policies have destroyed hopes of peace.
Following Trump's recognition of Jerusalem as Israel's capital last year, the Palestinians froze all ties with the US.
Washington has since taken a series of punitive measures against the Palestinians in attempt to pressure them to play ball with its faltering attempt at getting them back to the negotiating table with Israel, including axing its previously generous aid program for the Palestinian territories as well as UNRWA, the body responsible for Palestinian refugees.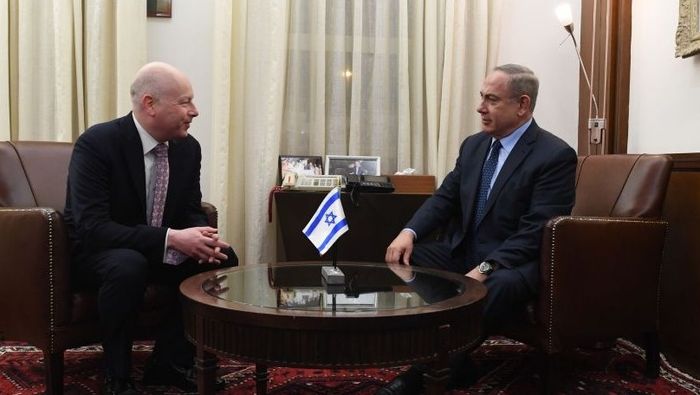 Assistant to the President and Special Representative for International Negotiations, Jason Greenblatt, left, meets Prime Minister Benjamin Netanyahu at the Prime Minister's Office in Jerusalem, March 13, 2017.
Kobi Gideon/GPO
Greenblatt however reiterated Trump's view that the peace plan will reflect a fair treatment of both sides.
"We also want to be fair to the Palestinians. We have tried hard to find a good balance. Each side will find things in this plan that they don't like. There are no perfect solutions," he told TOI.
The US has been criticized widely for its punitive measures against the Palestinians, but Greenblatt believes that the international community still has a desire to work with Washington.
"Not every country agrees with everything we do on the Israeli and Palestinian front, but there was not a single meeting in which we were told that countries would not work with us. Everybody has a strong desire to work with us, despite the policy differences we may have," he said.
Last month at the UN, Israeli Prime Minister Benjamin Netanyahu held talks with Trump who said it was a "dream" of his to bring about a peaceful solution to a conflict that has eluded several of his predecessors.
Trump also said explicitly for the first time that he backed a two-state solution, saying: "That's what I think works best, that's my feeling."
"I really believe something will happen. It is a dream of mine to be able to get that done prior to the end of my first term," added Trump, who was elected to serve four years through January 2021.
"Jared, who's so involved, he loves Israel but he's also going to be very fair with the Palestinians," the US president later told a news conference.
Despite the current crisis in US-Palestinian relations, Trump said that he was in no doubt that the Palestinians would soon return to the negotiating table. "Absolutely, 100 percent," he said.