IPT Exclusive: Linda Sarsour's Blood Libel
IPT News – September 25, 2018 –
When police officers in America shoot unarmed black people, Jewish hands lurk in the background.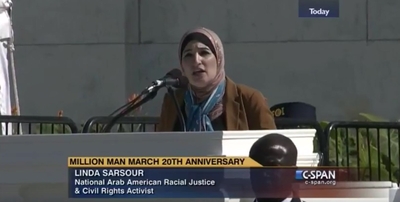 So says Linda Sarsour, perhaps the most visible Muslim political advocate in the United States – a co-chair of the national Women's March and a campaign surrogate for politicians including Bernie Sanders and Alexandria Ocasio-Cortez.
A program sponsored by the Anti-Defamation League (ADL) that takes American police officials to Israel for a week-long seminar is fueling police brutality, Sarsour said earlier this month at the Islamic Society of North America (ISNA)'s annual convention.
The ADL, she said in response to a question, "has been a purveyor of Islamophobia against our community" but still enjoys a positive reputation.
ADL officials "positioned themselves as somehow being part of the progressive movement," she said. "But what they do is, I'll give you an example of something that they do, if you are part of a criminal justice reform movement, if you believe in the idea of ending police brutality and the misconduct of law enforcement officers across the country, then you do not support an organization that takes police officers from America, funds their trips, takes them to Israel so they can be trained by the Israeli police and military, and then they come back here and do what? Stop and frisk, killing unarmed black people across the country."
"That's so horrific," said Nisi Jacobs, a co-founder of the Women's March for All, a group that broke away from the national Women's March because of anti-Semitism concerns about Sarsour and national co-Chair Tamika Mallory. Among its activities, Women's March for All has a petition calling on Sarsour and Mallory to be replaced.
"It's not only anti-Semitic, it's bullshit," Jacobs said. "She's lying to a bunch of gullible, hurt people. She's like a horrible guru that just lies because she has her own agenda."
In softer language, Austin, Texas Assistant Police Chief Chris McIlvain said his experience on the 2015 ADL-sponsored seminar in Israel was "not even remotely" close to what Sarsour described.
There was no tactical training and no discussion of forceful or coercive techniques, he said. Police departments must maintain "a state of readiness" for all kinds of threats, from mass shootings to terrorist attacks. Israel has experience with these challenges that can be helpful to police departments here.
"The ADL is a good partner of law enforcement combating hate crimes of all types," McIlvain said. "The idea is not to divert hate from one group to another, it's to eliminate it."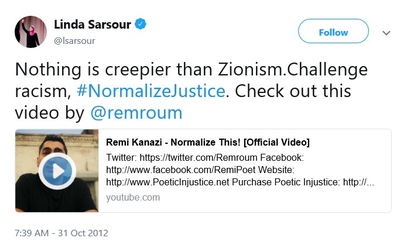 Sarsour didn't offer any information to substantiate her claim. She already has drawn accusations of anti-Semitism for her refusal to condemn Nation of Islam leader Louis Farrakhan's Jew-hating sermons and for her opposition – not just to Israeli policies – but to the very principle the led to the country's 1948 independence. "Nothing is creepier than Zionism," she famously wrote on Twitter. Zionists who failed to meet her threshold for sufficient support for Palestinians could not be feminists, she said.
"I am an unapologetic pro-BDS, one-state solution supporting resistance supporter here in the U.S., she told her ISNA audience Sept. 2.
BDS is the campaign to coerce corporations and universities into boycotting or divesting their investments in Israel. It is seen as anti-Semitic for demonizing and singling out the world's only Jewish state and trying to isolate it economically, academically and in the arts. Many of its advocates ultimately seek Israel's elimination. A one-state solution that Sarsour advocates would accomplish just that, upending Israeli demographics and ultimately ending its status as a Jewish homeland.
To garner more support for that goal, Palestinian advocates have turned to "intersectional" politics, an alliance of aggrieved interest groups. Courting African Americans has been a staple of that intersectional effort, with Palestinian supporters arguing that any injustices against African Americans at the hands of law enforcement are somehow akin to Palestinians fighting Israel. Liberation for both black people and Palestinians is "bound up," Sarsour said during the 2015 Million Man March organized by Louis Farrakhan.
Attacking the ADL program offers a way for activists like Sarsour to build intersectional alliances by linking Israel to "militarizing" American police, holding the ADL and Israel somehow responsible for police abuses in the United States. Sarsour took it a step further. If not for Israeli training made possible by the country's best-known Jewish organization, police wouldn't be shooting unarmed black people.
Read the remainder of this article on IPT News.com.