Today's News Summaries September 18 2018
Yom Kippur is my favorite Jewish holiday. Yes, Yom Kippur
By Michael Levin for Fox News.
The other day, my 10-year-old daughter asked me to name my favorite Jewish holiday. I thought about it for a few moments, and realized that the answer – strange as it sounds – is Yom Kippur, a day of fasting and prayer, which starts Tuesday at sundown and ends Wednesday night.
My daughter was surprised – she expected that it would be one of the fun holidays, like Purim (costumes and big parties), Hanukkah (candles and presents), or Simchat Torah (dancing and going crazy in the synagogue).
I put Yom Kippur the top of the list because it's the one day in the year when I can stay focused on one activity and one activity only, which happens to be the most important activity in my life – connecting with God.
We make mistakes. We do our best and sometimes our best isn't good enough. Sometimes, we don't even do our best. By singing our sins in the Ashamnu prayer, we are accepting our humanity.
Without the distractions of a normal day – technology, email, phones, even food and drink – and with the reinforcement that repetition provides, one experiences a depth of encounter with one's spirituality that the day is meant to provide.
The best explanation of Yom Kippur I ever heard came 40 years ago, when I was a college student. Rabbi Yisroel Deren at Chabad of Amherst explained things this way:
"The soul is a garment. This world is a muddy road. The soul gets spattered with mud. Yom Kippur is God's dry cleaning service for the garment that is your soul. In by 8 a.m., out and and clean by 7 p.m. One Day Service!"
Today we feature article 4 of 6 with Clare Lopez, the Vice President for Research and Analysis at the Center for Security Policy. Ms. Lopez delves deeply into Turkey's Aspirations for a Global Islamic Caliphate – outlining details about Turkey's involvement in the region you won't hear anywhere else but here on UnityCoalitionForIsrael.org. CLICK HERE to read this fascinating overview of the Middle East and Turkey's underlying motives.
Israeli-Ethiopian Director claims prestigious Canadian film prize for her new film, FIG. CLICK "Beauty, Diversity & Science" FOR GOOD NEWS!
Also, our "UCI Video News" channel continues to provide 3 video summaries of today's news in Israel!

---
Article 1 –
Russia and Turkey to create buffer zone in Idlib, Syria
BBC NEWS

, September 18, 2018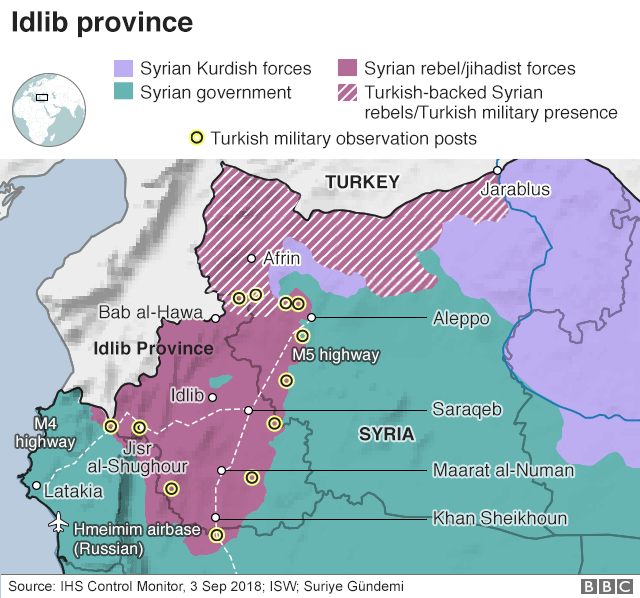 Russian President Vladimir Putin said it would be 15km to 25km (9-15 miles) wide and come into force by 15 October.
Troops from Russia, an ally of Syria's government, and Turkey, which backs the rebels, will patrol the zone.
The UN had warned of a humanitarian catastrophe if the Syrian army launched an all-out assault to retake Idlib.
But after Monday's meeting between Mr Putin and Turkish President Recep Tayyip Erdogan in Sochi, Russian Defence Minister Sergei Shoigu said the deal meant there would be no such operation in the region.
What is the deal and what did Putin and Erdogan say?
The Russian president said that under the deal, all heavy weaponry, including tanks, rocket launch systems and mortar launchers operated by rebel groups would need to be pulled out of the buffer zone by 10 October.
"Radically-minded rebels", including members of Hayat Tahrir al-Sham – a jihadist alliance linked to al-Qaeda that was once known as al-Nusra Front – would have to leave the zone, Mr Putin said.
It was not immediately clear if the zone included Idlib city, which would require some rebels to withdraw from it.
Mr Erdogan said: "We will prevent a humanitarian tragedy which could happen as a result of military action…"
What is Idlib and why does it matter?
Idlib province is the last major stronghold of rebel and jihadist groups which have been trying to overthrow President Bashar al-Assad for the past seven years, in a civil war that has killed more than 350,000 people.
Idlib, and adjoining areas of Hama and Aleppo, are home to an estimated 2.9 million people, including one million children.
A sharp increase in hostilities since the start of September and fears of further escalation have led to the displacement of tens of thousands. Hundreds of thousands in Idlib live in dire, overcrowded conditions, with a lack of basic services.
Idlib is not controlled by a single group, but rather by a number of rival factions commanding up to an estimated 70,000 fighters. The dominant force is Hayat Tahrir al-Sham (HTS), a jihadist alliance linked to al-Qaeda.
Idlib is also strategically vital. It borders Turkey to the north and straddles major highways running south from Aleppo to Hama and the capital, Damascus, and west to the Mediterranean coastal city of Latakia.
---
Article 2 –
US District Judge grants 1993 World Trade Center bomber's demand for halal meals
by Robert Spencer for JihadWatch.com
September 18, 2018"The lawsuit said Ajaj considered vegetarian and Kosher meals inadequate."
But the Qur'an says that "the food of the People of the Book is lawful for you and your food is lawful for them" (5:5), which means that Muslims can eat kosher foods and food prepared by Christians. That makes clear that Ahmad Ajaj's lawsuit is just another exercise in Islamic supremacism, attempting to gain special privileges and accommodation for Muslims, in accord with their privileged status in Islamic law.
Also, imagine if Ahmad Ajaj were a Nazi, and had bombed the World Trade Center as a Nazi mission, and that Nazis had food laws. In that case, would U.S. District Judge R. Brooke Jackson have been so quick to reinforce the ideology that landed Ajaj in prison in the first place?
"1993 World Trade Center bomber's request for halal meals that conform to his Muslim beliefs is granted," Dailymail.com, September 15, 2018 (thanks to the Geller Report):
A Muslim man serving a life sentence for the 1993 World Trade Center bombing has been granted access to halal meals after he sued the prison for not accommodating his religious beliefs.
US District Judge R Brooke Jackson issued an order Friday requiring prison officials to continue providing Ahmad Ajaj with halal meals.
However, the judge denied Ajaj's request for officials to provide him access to an imam in line with his specific religious beliefs, saying officials should not be expected to put in extra efforts to make that happen.
---
Article 3 –
New Kavanaugh allegations NEW ALLEGATIONS DOES NOT change the fact that it's all about politics
by Lisa Belkin for
YAHOO!

, September 18, 2018
In the day since Christine Blasey Ford stepped out of anonymity with her allegations that Supreme Court nominee Brett Kavanaugh sexually assaulted her when they were both teenagers, two other names have also come back into the news: Supreme Court Justice Clarence Thomas and his former subordinate Anita Hill, who accused him of sexual harassment in testimony at his confirmation hearing in 1991.
The similarities are many — both women reluctantly came forward late in the confirmation process, accusing a powerful man of sexual misconduct in lurid detail. Both men denied the charges. Both women (both, coincidentally, professors) were met with vehement pushback from Republican supporters of the nominees.
But there is another name, cited less often, whose nomination brought accusation and furor, and whose story is just as relevant, but in different ways — Douglas H. Ginsburg, nominated to the Supreme Court by Ronald Reagan in 1987. Like Kavanaugh, he was accused of breaking the law decades earlier: As a college student during the '60s and '70s, he had smoked marijuana.
---
Article 4 –
Humanitarian Concessions Will Not Reduce Hamas Violence. Here is the Evidence
by Prof. Hillel Frisch for
BESA Center Perspectives Paper No. 952

, September 18, 2018
EXECUTIVE SUMMARY: Israeli Minister of Defense Avigdor Lieberman appears to be accepting the argument that humanitarian gestures towards Hamas will buy quiet. The evidence provided by UN agencies in an effort to advocate for humanitarian gestures ironically proves that there is in fact no correlation between such gestures and a reduction in Hamas violence.
Politicians, commentators, diplomats, citizens, international fora, the Knesset, EU institutions, and – above all – Israel's major media sites endlessly debate Gaza's alleged humanitarian plight and the virtue of humanitarian gestures as a means to mitigate it.
Even Israel's hardline Minister of Defense, Avigdor Lieberman, appears to be buying into this argument. The Kerem Shalom border crossing is to be reopened after having been closed in reaction to the launching by Hamas of nearly 200 missiles over the space of two days. The fishing rights of Gaza fishermen will be widened to 12 kilometers in the hope that Hamas will stop the launches. Hamas will be free to continue sending off incendiary balloon bombs and to violently challenge Israeli troops at the security fence every Friday. Needless to say, Hamas leader Yahya Sinwar told the Egyptians brokering the deal that Hamas cannot possibly desist from these forms of "resistance."
The hope to buy off Hamas with humanitarian gestures is in vain.
---
Article 5 –
Yom Kippur War: IDF chief ignored pre-warning about Egyptian artillery
by Yonah Jeremy bob for the
JERUSALEM POST

, September 17, 2018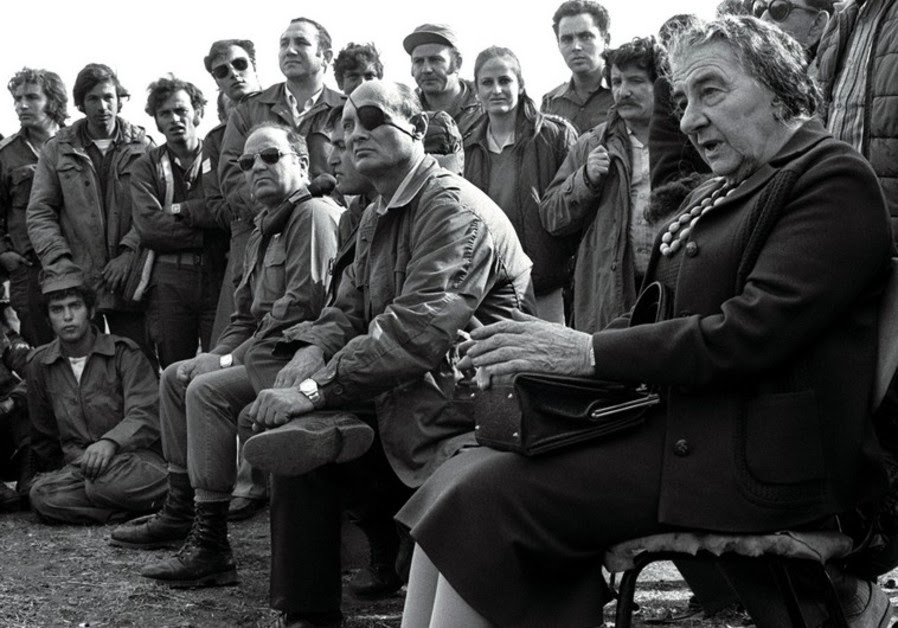 Former IDF chief of staff Haim Bar-Lev ignored warnings in 1972 that forts along the Sinai defense-line with Egypt could have been easily hit with 5,000 shells per hour. That's according to classified material disclosed by the Defense Ministry on the eve of the 45th anniversary of the Yom Kippur War. Those forts were later named after him.
The warnings came on May 29, 1972, from IDF Operations Command Maj.-Gen. Yisrael Tal, who said that, "every one of the forts on the [Suez] Canal, as far as potential from the enemy, could be hit easily with 5,000 shells per hour" by Egyptian forces.
He continued to say that, "it is not just a question about a given fort being destroyed. Rather, even if the fort is not destroyed, the people [soldiers] there will never fight again – because of the shock, the gas" and other harm from the attack.
"We have not risked exploring this [scenario], and we cannot wait until the first test and only afterward evacuate the forts… my point of reference for nixing the forts is that it is an awful trap… And it can happen in one hour. And if it happens in one day to four or five forts, it would be a national disaster," he added.