Today's News Summaries August 3 2018

AMERICAN FIREFIGHTERS FLY TO ISRAEL TO JOIN FIGHT AGAINST THE FLAMES FROM GAZAN ARSON ATTACKS
More than 7,500 acres of Israeli land has been destroyed. This includes thousands of acres of natural parks and agricultural fields. Just the other day, Gaza terrorists ignited 15 fires ignited arson kites and incendiary balloons.
BATTLEFORTRUTH ARTICLE AND VIDEOS
ISRAEL'S EDGE: THE ELITE IDF FORCE OF TALPIOT – Jason Gewirtz, author of Israel's Edge, describes the elite IDF unit "Talpiot," a corps of brilliant young Israelis who create Israel's high-tech defense systems, satellites and cyber security that make Israel a world military leader. BattleForTruth Video HERE.

NIKKY HALEY – GETTING' 'IT DONE
READ THIRD ARTICLE for More Information

CLICK "Beauty, Diversity & Science" FOR GOOD NEWS!

Also, our "UCI Video News" channel continues to provide 3 video summaries of today's news in Israel!

---
Article 1 –
On Ice, democrats abandon the mainstream
by the White House for
1600 DAILY

, August 02, 2018
Despite public opposition, numerous Democrats continue to call for U.S. Immigration and Customs Enforcement (ICE) to be abolished. It's a belief that falls squarely outside the American mainstream: According to a recent POLITICO/Morning Consult poll, only 25 percent of voters support getting rid of ICE.A majority of Americans know we must keep ICE, and for good reason: Eliminating this crucial piece of our national security force would grind immigration enforcement to a halt, with devastating consequences for public safety. Abolishing ICE would mean abolishing the agency responsible for removing drug dealers, gang members, and other criminals who exploit America's border to take advantage of our communities.
The numbers don't lie. Criminals arrested by ICE during the 2017 fiscal year were responsible for: 
• More than 76,000 dangerous drug offenses;
• More than 48,000 assault offenses;
• More than 11,000 weapon offenses;a
• More than 5,000 sexual assault offenses;
• More than 2,000 kidnapping offenses; and
• More than 1,800 homicide offenses.
Our immigration law enforcement officers work in dangerous conditions to protect our communities. We must stand with them. Recently, 167 Democrats in the House of Representatives refused to vote for a resolution to support these border officials. "To the courageous public servants at ICE, men and women, we want you to know that the American people are with you and my administration has your back 100 percent," President Trump said in his most recent weekly address.
---
Article 2 –
Satellite Imagery + Social Media = A New Way to Spot Emerging Nuclear Threats
by
DEFENSE ONE

, August 03, 2018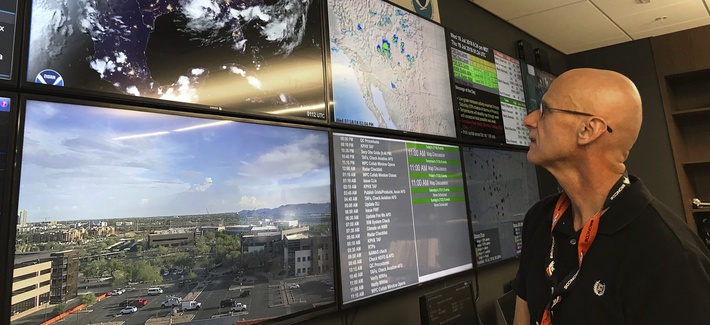 In this Wednesday, July 18, 2018 photo, National Weather Service forecaster Marvin Percha reviews monitors that track satellite and Doppler radar images, as well as his colleagues' forecasts posted on social media, at the agency's operating center in Az.
A research team is training computers to find and fuse clues from wildly different rivers of digital data.
Hiding illicit nuclear programs might be getting harder, thanks to new ways of gleaning and combining clues from various rivers of digital data. That's the conclusion of new research funded in part by the U.S. Energy Department's National Nuclear Security Administration.
Satellites offer one kind of information; social media another — particularly inside countries that may be trying to flout inspections. But large volumes of satellite imagery and social media data aren't similar. You can have one analyst examine satellite pictures and another look at social media posts to see if they align, but the process is time-consuming and generally far from comprehensive. The study's authors developed a method for fusing different types of data in a machine-readable way to offer a much clearer picture.
---
Article 3 –
Trump warns UN for hypocrisy on PLO, Hamas and Israel
by David Singer for
ISRAEL NATIONAL NEWS

, August 01, 2018
Last year, Iran's contribution to UNRWA was zero. Algeria's contribution to UNRWA was zero. Tunisia's contribution to UNRWA was zero. Haley named and shamed.President Trump has challenged United Nations (UN) member States to put their money where their mouths are in a hard hitting speech delivered by US Permanent Representative to the UN – Ambassador Nikki Haley – at a UN Security Council Open Debate on the Middle East on 24 July.
Following Trump's dressing down of NATO – Haley attacked UN member States who are full of words but short on money when it comes to supporting the Palestinian Arabs.
"Haley:    all the words spoken here in New York do not feed, clothe, or educate a single Palestinian child. All they do is get the international community riled up.
Haley did not mince her words. "

Haley – צילום:INN:HK
Haley called out both aberrant PLO and Hamas leaderships…
---
Article 4 –
New York Times' Myths About Israel as a Jewish State
by Daniel Pomerantz for
HONEST REPORTING

, July 31, 2018
In any debate, opinions must be based on factual reality, not myths:  a professional obligation the New York Times must pay attention to when it publishes an opinion piece such as this one by Palestinian-Israeli writer Sayed Kashua.This month Israel passed the "Nation State Law," which among other things, officially declares that Israel is the nation state of the Jewish people. This law has generated support, opposition and legitimate debate both at home and abroad.
Here are a five myths written by Kashua along with the basic the fact checking the NYT should have done in the first place.
Myth #1: "[Israel is] a country where Jews enjoy rights that others don't have."
Fact: While Israel struggles with the same tensions as any ethnically diverse democracy, all citizens have equal rights under law.***
---
Article 5 –
Chomsky Calls Russian Interference a Joke – Blames Guess Who?
by Alan M. Dershowitz for the
GATESTONE INSTITUTE

, August 03, 2018
Transparency and public accountability are the cornerstones of democracy. Prime Minister Netanyahu's very public opposition to Obama's Iran Deal — a deal opposed by most members of Congress and most Americans — was just as consistent with democracy as Winston Churchill's public demands for the United States to help Great Britain fight the Nazis.
Holocaust denial is quintessentially anti-Semitic, because it falsely accuses the Jews of fabricating stories of the murder of six million Jews.
Noam Chomsky may be intelligent when it comes to linguistics, but his statements regarding Israel, Russia, and the Holocaust are simply counter-factual. There is no other word for his bizarre views, if he actually believes them. If he does not, then there is another word that aptly describes his statements: bigotry.
Noam Chomsky has gone off the deep end once again. This time he claims that in "most of the world" the issue of Russian interference in U.S. elections is "almost a joke." The real villain, according to him, is, of course, Israel — as it almost always is with Chomsky.