Israel designates Palestinian al-Quds TV station a terror organization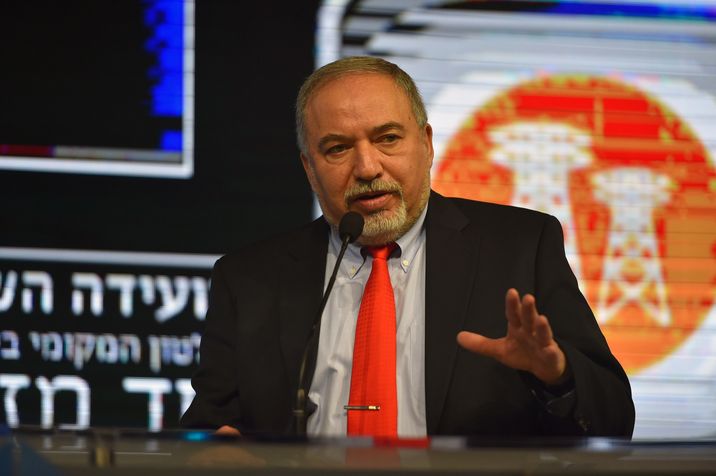 Defense Minister Avigdor Liberman at a local government conference in Tel Aviv on Wednesday February 14 2018.
Ariel Harmoni/Ministry of Defense
Defense Minister Avigdor Liberman announced on Monday that he was declaring the Palestinian Al-Quds television network a terrorist organization, prohibiting the outlets operations in Israel henceforth.
"According to up-to-date, reliable, cross-checked and diverse intelligence, the Al-Quds station is a propaganda wing of Hamas, representing a central platform for distributing the terrorist organization's messages," Liberman's office said in a statement.
The decision to blacklist the TV station derived from a Shin Bet security service recommendation and advice from the National Bureau for Economic counter terrorism. The intelligence provided claimed that the channel acts as a propaganda arm of the Gaza-based Hamas group, according to the statement from the defense ministry.
Journalists and cameramen of an affiliated organization who work closely with the Al-Quds channel were summoned for questioning by Israeli authorities on Monday where, according to Haaretz. They were told that a warrant had been issued and that Al-Quds was deemed illegal.
"The decision on the Al-Quds channel is another step of terror that joins the other violent decisions Israel has taken against the Palestinian people," a spokesperson for Hamas, cited by Haaretz.
The channel, in a statement, accused Israel of repressing free speech and vowed it would continue in its efforts to "expose the occupation's crimes."
In response to the blacklist, director of the Al Quds, Imad Al Afranji said, according to Ynet, "the decision to prevent the station from operating in Jerusalem and inside Israel is designed to eliminate a Palestinian perspective, which exposes Israel's violation of the rights of the Palestinian people."
"There is a strong betrayal here of freedom of expression. The defense minister likely wants the media to glorify the occupation and not expose its misdeeds," Joint (Arab) List MK Ahmad Tibi said at the Knesset, he was joined by a number of other Arab-Israeli lawmakers who criticized the move.
Founded in 2008, the channel has offices in the Gaza Strip, Ramallah and the Gaza Strip but it broadcasts from Beirut. It is considered to have an Islamist agenda and is affiliated with Hamas, often criticizing the West-Bank-based Palestinian Authority headed by Mahmoud Abbas.
In June last year Israeli Prime Minister Benjamin Netanyahu declared his intention to close the Jerusalem-bureau of the Qatar-based Al-Jazeera news network accusing it of incitement and propaganda.