Today's News Summaries July 6 2018 with Israel Video Reports
HAVE A BLESSED SHABBOT SHALOM
CELEBRATING Shabbat and Holidays
When we celebrate holidays at Hillel, we create a welcoming environment for all Jewish students, regardless of practice, knowledge, or affiliation. Jewish holidays are one of the most important times for students to connect to Jewish life on campus. The students can join the broader Jewish community, including alumni, university faculty and staff, and local community members in celebration.
Hillel.org
A PRAYER for a calm heart and home
Blessed are the peacemakers, for they will be called children of God – Matthew 5:9.
Each home will have its own level of neatness to aspire to, but there is something that everyone can agree upon as ideal: living in a calm, peaceful home. What is the atmosphere of your home on most days? Could you describe it as a place of refuge or is it more chaotic or stressful? There's the visible calm of a clean, orderly home and there's also the invisible calm of a welcoming, loving environment.
Arlene Pellicane – GODTUBE
Today on Beauty, Diversity & Science from Israel with Love, we feature a unique Jewish Indy Singer-Songwriter, Alex Claire. CLICK HERE TO VIEW.
Click here to view UCI Video News with 3 up-to-date news reports

---
Article 1 –
Erdan confirms trying to kick-start prisoner swap talks with Hamas
by Attila Somfalvi and Alexandra Lukash for
YNET NEWS

, July 05, 2018
In an exclusive Ynet interview, public security minister says 'every effort through diplomatic channels' being made to begin talks with terror group which is holding Israeli citizens, remains of IDF soldiers; says Israel insufficiently prepared for earthquakes day after country is rocked by 2 in 24 hours.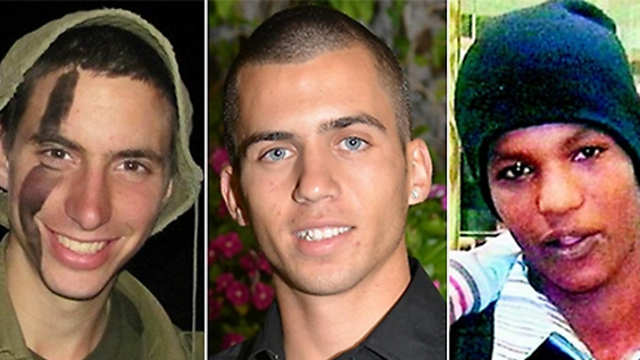 L-R: Hadar Goldin, Oron Shaul and Avera Mengistu
Public Security Minister Gilad Erdan confirmed Thursday that Israel is undertaking efforts to kick-start talks with Hamas to secure the release of Israeli citizens and the remains of IDF soldiers, following reports that Germany is acting a mediator between the two side in a possible prisoner exchange deal.
---
Article 2 –
Three minor earthquakes hit Israel, serious one only a matter of time
by Tamara Zieve for
JERUSALEM POST

, July 05, 2018
Professor: Israelis should stock up in preparation for big quake.
A bigger earthquake than those felt by Israelis over the past couple of days is sure to come – and Israelis should be ready for power outages and if necessary to leave their homes. So warned Amotz Agnon, professor at the Institute of Earth Sciences at the Hebrew University in Jerusalem on Thursday.
In an interview conducted by the Israel Project, Agnon said that the "when, how bad and where" are not clear, but additional and more severe earthquakes are sure to come.
Israelis have felt three earthquakes over the past two days; additional ones were recorded by instruments of the Geophysical Institute of Israel.
---
Article 3 –
Hezbollah role in Syrian south exposes limits of U.S. policy
by Tom Perry, Laila Bassam for
REUTERS

, July 06, 2018
BEIRUT (Reuters) – Hezbollah is helping to lead a Russian-backed offensive in southern Syria, pro-Damascus sources said, exposing the limits of U.S. policy that hopes Moscow can get Iran and groups it backs out of the country.
Hezbollah's role in the offensive near the border with Jordan and the Israeli-occupied Golan Heights has also defied Israeli demands that Iranian proxies be kept away from its frontier – a fault line of the decades-old Arab-Israeli conflict.
"Hezbollah is a fundamental participant in planning and directing this battle," a commander in the regional alliance that backs Damascus told Reuters. "Everyone knows this – the Israeli enemy, friends, and even the Russians."
Hezbollah's role includes directing Syrian forces, the commander said. It has also deployed its own elite forces.
But the Iranian-backed group is keeping a lower profile than in past Syria campaigns, acknowledging the risks of Israeli escalation.
---
Article 4 –
IDF's cyber defenders prepare their responses for the 'unknown threat'
by Yaakov lappin for
JNS

, July 04, 2018
Whether wireless, wired, or using satellites and phones, the Hoshen Unit is involved in enabling military communications, and its personnel are aware of the fact that Israel's enemies are keen on being able to shut down the IDF's networks if they could.
The cyber defenders of the Israel Defense Forces are preparing to deal with future unknown threats that will not resemble the dangers known today, a senior cyber officer has told JNS.
Military assessments place cyber warfare on par with the potential damage that conventional weapons can incur. In some cases, cyberattacks can surpass the damage caused by known threats like missiles. A cyber arms race rages between Israel and its foes, parallel to the conventional arms race that is under way.
At a cybersecurity conference late last month in Tel Aviv, Israeli Prime Minister Benjamin Netanyahu spoke of the challenges Israel and all developed countries face from adversaries now bent on cyberattacks.