Tillerson Says Kushner's Mideast Peace Plan Is 'Well Advanced'
The Trump administration's Middle East peace plan is "fairly well advanced," Secretary of State Rex Tillerson said Wednesday, as he sought to convince regional allies that the U.S. remains an honest broker despite recognizing Jerusalem as Israel's capital.
"It will be up to the president to decide when he feels it's time and he's ready to put that plan forward," he said in Amman, Jordan of the long-anticipated proposal being worked out by President Donald Trump's son-in-law, Jared Kushner, and Middle East envoy Jason Greenblatt. "I will say it's fairly well advanced."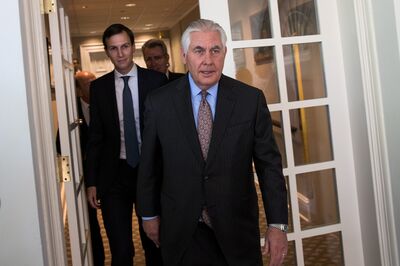 The administration has so far been tight-lipped about the plan and Tillerson declined to offer details. Trump has said the framework being discussed is a "great proposal for the Palestinians and a "very good proposal for Israel."
The ability of the U.S. to broker an accord that has eluded a succession of American presidents was thrown into question after Trump broke with decades of precedent in December and declared the U.S. was recognizing Jerusalem as the capital of Israel. The administration later announced an accelerated timetable for moving the embassy to Jerusalem from Tel Aviv by the end of next year.
Why Jerusalem's Status Is a Capital Controversy: QuickTake Q&A
Those decisions infuriated Palestinian leaders, who said they all but closed the door on peace efforts by reversing an understanding that the final status of Jerusalem — part of which the Palestinians also claim as the capital of any future state — would be left to peace talks.
Speaking in Amman alongside Jordanian Foreign Minister Ayman Safadi, Tillerson said Trump "remains committed to seeing a Middle East peace process go forward." The issue is a tricky one for Tillerson himself because he has been largely sidelined by Kushner's team as the proposal has been worked out.
"I have seen the plan, elements of the plan, it's been under development for a number of months, I have consulted with them on the plan, identified areas that we feel need further work," Tillerson said.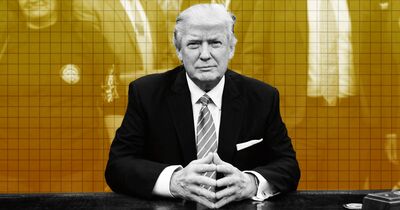 The U.S. further angered the Palestinians and Jordan when Trump slashed funding for UNRWA, the United Nations agency that assists Palestinian refugees — including the more than 2 million who live in Jordan. Tillerson left open the possibility the U.S. would restore previous years' funding levels to the agency, though he said other donors need to step up and offer more money.
Safadi sought to highlight close ties with the U.S., focusing on a memorandum the two officials signed for more than $6 billion in American aid to Jordan over the next five years. He said Jordan's position on Jerusalem was well-known — the kingdom was vehemently opposed to the Trump move — and again reiterated the need for a two-state solution as part of any Israel-Palestinian settlement.
"The challenge is how to move forward and how to make sure a difficult situation does not get worse," Safadi said.