Jerusalem jubilee festivities begin
The president and prime minister are joined by the US ambassador in the capital to fête the semicentennial of its reunification in the Six-Day War.
Events to celebrate the quinquagenary of Jerusalem's reunification kicked off on Sunday night at an event attended by the president and prime minister. The official semicentennial takes place on Jerusalem Day, observed this year on May 24.
At a ceremony held on the backdrop of the Old City, Prime Minister Benjamin Netanyahu remarked: "Fifty years ago we returned to the heart of our capital and our country, and 50 years ago we did not conquer—we liberated.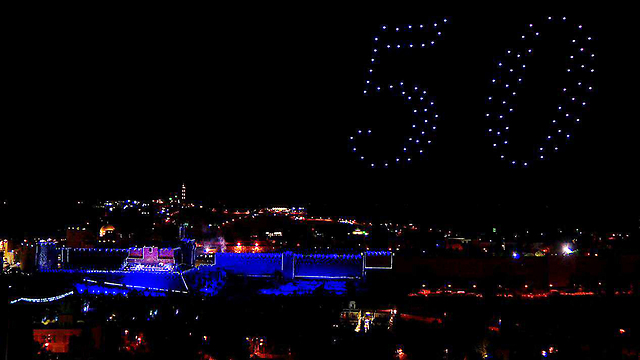 "With the bravery of our soldiers and with the love of our people, Jerusalem was reunited and so, today, I say to the world with a loud and clear voice—Jerusalem was and always will be the capital of Israel. The Temple Mount and the Western Wall will always remain under Israeli sovereignty."
In the 1967 Six-Day War, Israel wrested control of the eastern part of the city from Jordan. The ceremony was also attended by the new US ambassador to Israel, David Friedman.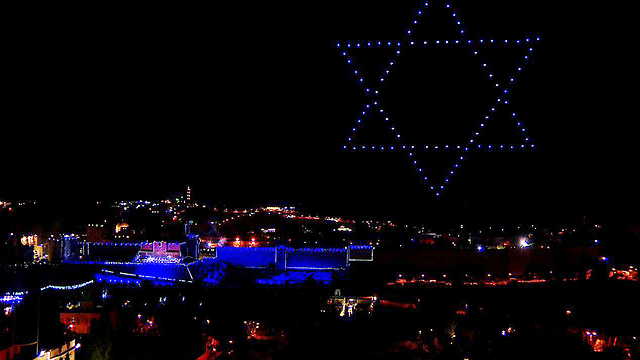 Drones form a Star of David above Jerusalem (Photo: Mizmor Productions)
President Reuven Rivlin said at the ceremony: "Anyone who talks about Jerusalem, who analyzes and talks about the city's dissolution, brings about disaster for it and its residents." He added, "Jerusalem is not the problem; it is the solution."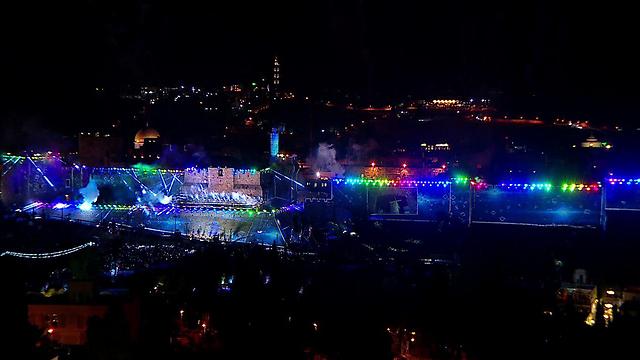 The Old City (Photo: Mizmor Productions)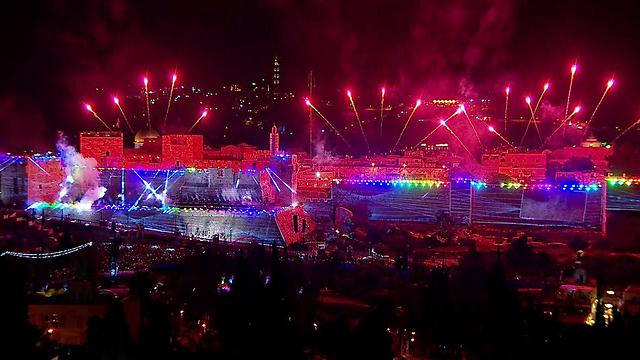 At an event held earlier that evening with the participation of the US ambassador, former Arkansas Governor Mike Huckabee, ministers and members of Knesset, Deputy Foreign Minister Tzipi Hotovely remarked: "Jerusalem is the heart of the Jewish People and in the Six-Day War the heart began to beat once again in the Land of Israel.
"We all hope to see the US embassy in Jerusalem, but it is no less important to see a renewal of construction in Judea and Samaria after years of stagnation under the previous administration.
"The Trump administration is the first US administration to emphasize that settlements are not an obstacle to peace. It is important, therefore, that we proceed with construction. Kindergartens, schools and homes of Jewish families are not preventing peace. On the contrary, they represent the renewal of life in the Land of Israel."