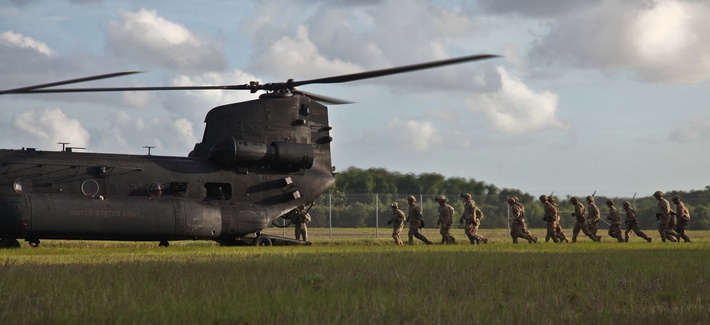 Army Rangers of 1st Battalion, 75th Ranger Regiment, prepare to enter an MH-47 helicopter to execute fast rope training at Hunter Army Airfield, Ga. June 2, 2014.
(US Army photo by SPC Coty Kuhn)
The velocity of instability continues to increase worldwide: ISIL and terrorism in Iraq, Syria, and Yemen; anarchy and extremism in North Africa; Russian annexation of Crimea and the use of unconventional land forces in Ukraine; provocation by North Korea; and various emergencies requiring complex humanitarian assistance and disaster relief efforts. Global instability, coupled with the reduction in military capabilities of many of our allies, has emboldened potential adversaries and magnified the risk to U.S. interests around the world. It is therefore imperative, now more than ever, to field a ready and modern Army that is innovative and adaptive and that remains the bedrock of the Joint Force.
The Army is meeting this challenge — to change itself and improve land power capabilities — through a strategy called Force 2025 and Beyond. It is our method to prepare the Army for the complexities of the global security environment, both now and in the future. Over the past year, the Army has refined this strategy and its underpinnings; here's how they all fit together.
In May, the Army released its updated Army Vision, Strategic Advantage in a Complex World, to be the intellectual foundation for its efforts to prevent conflict, shape security environments, and win wars. That followed the October release of the new Army Operating Concept, Win in a Complex World, which discusses how warfighting capabilities combine to fulfill larger missions — that is, how future Army forces, as part of joint, interorganizational, and multinational efforts, will operate to accomplish campaign objectives and protect U.S. national interests. Force 2025 and Beyond, in turn, shapes the comprehensive effort necessary to achieve the capabilities envisioned in the Army Operating Concept….
Read more