THE BATTLE FOR TRUTH:
We have engaged in the Battle for Truth for twenty-two years. To understand our mission in the Battle for Truth, please watch the brief video below of UCI featuring Israel's Prime Minister Netanyahu and Esther Levens, Founder of the Unity Coalition for Israel.
In 2013, UCI has had much activity and many accomplishments. We have addressed major issues in the turbulent Middle East and have kept our readers, the U.S. Congress and U.S. Media outlets apprised of all the momentous events through our Daily Newsletters, Media and Action Alerts, as well as Press Releases. In the coming years we will continue to Battle for Truth, for the United States, for the World, but most importantly: for the nation of Israel.
Editor's Note:
Thursday April 17, 2014
Intelligent "WRAPPING PAPER" HEALS BROKEN BONES in Half the Time




Get more information HERE





Nanodot-based SMARTPHONE BATTERY that recharges in 30 seconds.




Read more HERE



JERUSALEM ONLINE-Your Link to Israel
Our thoughts and prayers go out to the family and friends of the victims of the senseless violent shootings at Shalom Village and JCC. May God give them Strength and Peace and fill them with His Everlasting Love.

Daughter and mother of victims speaks at prayer vigil after Overland Park shootings
Mindy Corporon, the daughter and mother of two of the shooting victims at the Jewish Community Center in Leawood, Kan, speaks at a prayer service for all three victims on Sunday April 13, 2014.
YouTube video - KC Star Video by John Sleezer - 02:26
See article #1 for more information


If you would like to make a donation to UCI this holiday season, please visit our paypal page HERE or send checks payable to UCI to 3965 W. 83rd St, 292, Shawnee Mission, KS 66208. Thanks for your gift to UCI!
---
Contents: (summaries below)
---
Suspect in Jewish center shootings 'entrenched in the hate movement'
Ed Payne
CNN

, April 14, 2014
...Views shaped early

A Green Beret who served 20 years in the Army, including two tours in Vietnam, Cross has racist views that were shaped early in life, according to the Southern Poverty Law Center, which monitors hate groups. The SPLC, like the ADL, referred to Cross by his pseudonym of Miller.

His father gave him a copy of a newspaper published by the National States' Rights Party, and within two minutes, he said he knew he'd found a home in the movement.

Who were the victims?

In the early 1980s, he founded and ran the Carolina Knights of the Ku Klux Klan. But instead of the traditional white robe of the Klan, he preferred fatigues and recruited active-duty soldiers as members.

According to the ADL, which released a summary of its files on Cross/Miller on Monday, the group "drew notoriety for its paramilitary training exercises" and was behind several attacks on African-Americans during that era. Cross himself "was one of the more notorious white supremacists in the U.S."

The SPLC sued him for operating an illegal paramilitary organization and for intimidating African-Americans. The two sides settled, with the Knights barred from operating. But a month later, Cross resurfaced with an offshoot: the White Patriot Party....

...Racism meets religion

According to Cross' 1999 autobiography, he is an adherent of Odinism, a neo-pagan religion that experts say has become one of the most vicious strains in the white supremacist movement.

"I'd love to see North America's 100 million Aryan Christians convert to the religion invented by their own race and practiced for a thousand generations before the Jews thought up Christianity," he wrote, describing Odinism as "the religion for a strong heroic people."

In his autobiography, "A White Man Speaks Out," Cross wrote that he had prayed to the Norse god Odin to spark a race war in the United States.

Though Odinism has been appropriated by white racists, most adherents are peaceful, earth-loving pagans, said Jonathan White, an expert on white supremacists and a professor at Grand Valley State University in Grand Rapids, Michigan.

'Not a fringe character'...
Click here for the complete article, or copy and paste this link into your web browser:
http://www.unitycoalitionforisrael.org/uci_2014/?p=8096
---
Shootings at Jewish centers in Kansas leave 3 dead
Rick Jervis
USA TODAY

, April 14, 2014
William Lewis Corporon, 69, and grandson Reat Griffin Underwood, 14, shown in an undated family photo. Corporon died at the scene. Underwood was rushed to an area hospital, where he died of his wounds. (Photo: Credit: Corporon family)

A shotgun-wielding man opened fire at two Jewish sites in suburban Kansas City on Sunday, killing three people -- including a teenager and his grandfather -- and shocking a peaceful community.

Police arrested Frazier Glenn Cross, 73, of Aurora, Mo., and booked him into the Johnson County, Kan., jail Sunday evening, charging him with premeditated murder, according to the booking report.

According to the Southern Poverty Law Center, Cross -- whose real name is Frazier Glenn Miller -- is a former "grand dragon" of the Ku Klux Klan with a long history of running illegal paramilitary organizations and intimidating minorities....
Click here for the complete article, or copy and paste this link into your web browser:
http://www.unitycoalitionforisrael.org/uci_2014/?p=8097
---
Attacks on Jews show a troubling increase
Alana Semuels
Los Angeles Times

, April 02, 2014


Statistics compiled from police reports and from the 27 offices of the Anti-Defamation League
(Source: Anti-Defamation League)

NEW YORK — The elderly woman had stopped by the Jewish Community Center in the Canarsie area of Brooklyn and was shuffling away, leaning heavily on her walker, when a young man punched her in the head as he walked past, knocking her to the ground.

When she returned to the center for help, the staff called for an ambulance, vigilant that this might have been another example of the "knockout game," a social media trend that had young people punching out random individuals on the street last year. Since that November incident, the neighborhood hasn't had any other anti-Semitic assaults, but that doesn't mean the victim has healed, said Rabbi Avrohom Hecht, executive director of the center, who helped the woman after the assault.

"People should realize when they do this to someone there are emotional and mental scars they leave on people," Hecht said. "I know this woman is still suffering."...
Click here for the complete article, or copy and paste this link into your web browser:
http://www.unitycoalitionforisrael.org/uci_2014/?p=8098
---
Antisemitism in America
worldjewishdaily.com

, April 17, 2014
As he prepares to step down this summer as American Jewry's leading figure in the battle against antisemitism, Anti-Defamation League National Director Abe Foxman is happy to report America tops the list of countries where Jews suffer the least from antisemitism.

In a wide-ranging interview with the Jewish Telegraphic Agency, Foxman said, "Statistically, yes, the picture is pretty good." American Jews live relatively free from discrimination or threats of violence and have "made it" socially.

But America "is not immune to antisemitism. We're not immune to racism and bigotry and prejudice," Foxman warned.

There is "classic antisemitism: Jew-baiting, swastika scrawling, physical violence." There is anti-Zionism on college campuses, which many view as antisemitism, and there is "attidunal" antisemitism.

A recent ADL poll showed 12% of Americans hold antisemitic views; down from 30% in 1964. The statistics were highest among the African-American and Latino populations, with more than 30% of that population reportedly having antisemitic attitudes....
Click here for the complete article, or copy and paste this link into your web browser:
http://www.unitycoalitionforisrael.org/uci_2014/?p=8099
---
New York City: Number of violent anti-Semitic attacks up
fighthatred.com/

, April 06, 2014
...According to its report, even though the total number of anti-Semitic incidents dropped, there was a significant increase in violent anti-Semitic assaults. The ADL Audit categorizes anti-Jewish incidents into three categories: assault, vandalism or harassment. In 2013, the numbers broke down as follows:

- Assaults: 31 incidents reported in 2013, compared with 17 in 2012;

- Vandalism: 315 incidents in 2013, compared with 440 in 2012;

- Harassment, threats and events: 405 incidents in 2013, compared with 470 in 2012....
Click here for the complete article, or copy and paste this link into your web browser:
http://www.unitycoalitionforisrael.org/uci_2014/?p=8100
---
EXCLUSIVE: Victim of Anti-Semitic Attack in France Says Similar Incidents Occur Every Week (INTERVIEW)
Shiryn Ghermezian
algemeiner.com

, April 03, 2014

Jewish teacher attacked in Paris. Photo: http://www1.alliancefr.com.

The victim of a brutal anti-Semitic attack in Paris late last month said assaults similar to the one he faced are a common occurrence in France.

His comments were made in an exclusive interview with The Algemeiner on Thursday.

"This incident is not isolated. There are similar incidences every week in Paris, in the suburbs [and] in the provinces," said the 59-year-old Jewish teacher, only identified as David. "There was another attack after mine in Paris and the general media did not mention it, only the Jewish media did. They never talk about Jews being attacked, they don't write that 'Jews [were] attacked by Arabs.'"

David was assaulted by three North African "Maghreb men" at 10 p.m. on March 20 after leaving a kosher restaurant in Rue Manin, Paris, and making his way to a subway station. "They started to curse me out: 'dirty Jew,' 'death to the Jews,' 'son of a b***,' etc. Then they started to beat me up," he said in an interview following the incident. Then, with a marker, they drew a swastika on his bare chest....
Click here for the complete article, or copy and paste this link into your web browser:
http://www.unitycoalitionforisrael.org/uci_2014/?p=8101
---
Anti-Jewish Hate Attacks Fall in Britain, Says Survey
Dominic Gover
ibtimes.co.uk

, February 06, 2014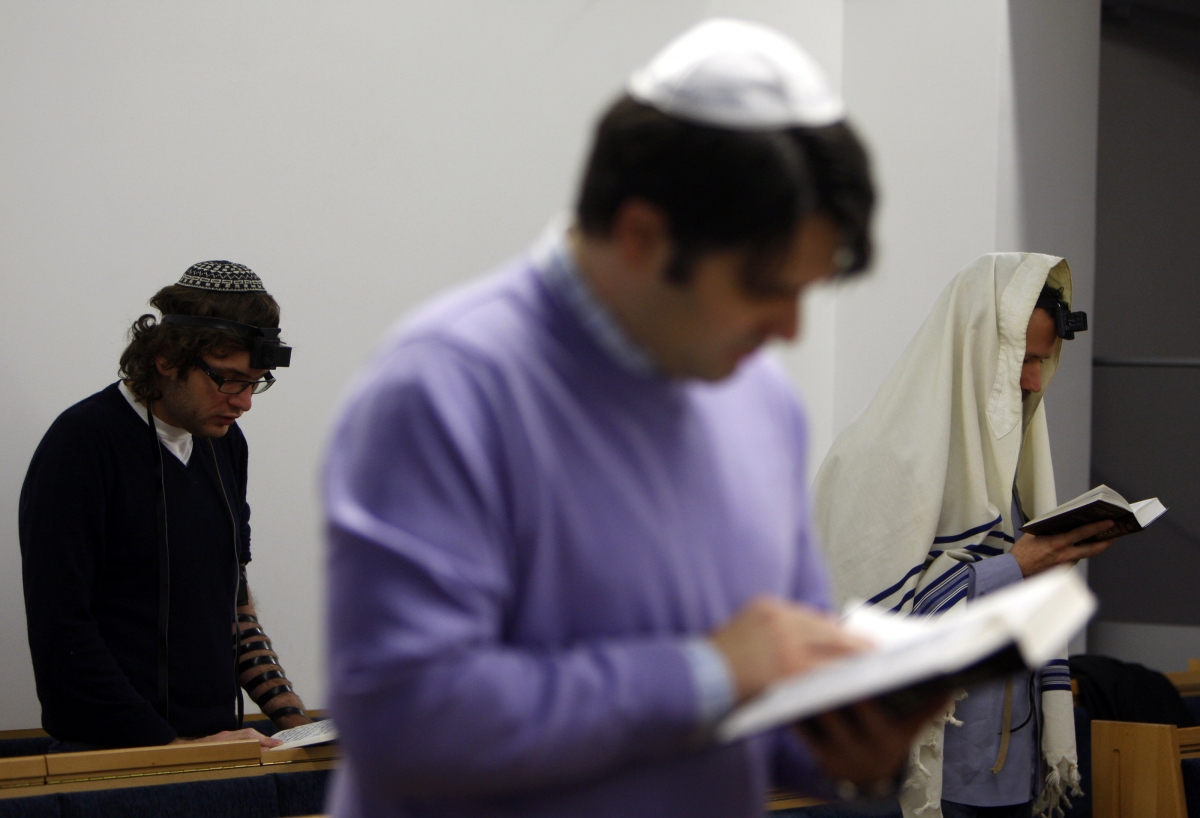 Antisemitic attacks in Britain fell in 2013 - except in Manchester (Reuters)

Attacks on Jewish people in the UK have fallen by nearly a fifth to their lowest total in nearly a decade, a survey has found.

Research by the Community Security Trust (CST) found 529 anti-semitic incidents occured across Britain in 2013.

This compared with 649 attacks in 2012, and represented a fall of over 40% from the all-time high of 931 in 2009.

The data was compiled from reports by members of the public to the CST helpline and included attacks on social media, as well as damage to property....
Click here for the complete article, or copy and paste this link into your web browser:
http://www.unitycoalitionforisrael.org/uci_2014/?p=8102
---
Share this information now! Choose your social button below.