Editor's Note:
Monday October 20, 2014
JERUSALEM ONLINE


Your Link to Israel



SYRIA TUNNEL Blast Proves Hezbollah
Terror Tunnel Threat
You Tube video - 02:05 (Oct 15, 2014)

Christian, Jewish Leaders Call to
SAVE MIDDLE EASTERN CHRISTIANS
YouTube video - 08:36 (Oct 13, 2014)

"The BEST SPEECH an Israeli diplomat ever held"
George Deek in Oslo
Topic: "My family's story in 1948 - fleeing Jaffa, building a future in Israel." George Deek, Israel's vice ambassador to Norway, giving a lecture in the House of Literature in Oslo, during a MIFF event 27 September 2014.
YouTube video - 30:12 (Oct 1, 2014)
---
Contents: (summaries below)
---
There Should Be No Palestinian State
Caroline B. Glick
The New York Times

, October 17, 2014
When Swedish Prime Minister Stefan Lofven announced his decision to recognize the non-existent state of "Palestine" earlier this month, he inadvertently gave the game away.

"A two-state solution requires mutual recognition and a will to peaceful coexistence," Lofven said. "Sweden will therefore recognize the State of Palestine."

The Palestinians refuse to recognize or peacefully coexist with the State of Israel.

Like his coalition partner, the Hamas terror master Khaled Mashaal, and despite his sweet talk to Western audiences, the P.L.O. chief Mahmoud Abbas has pledged, repeatedly, over decades that he will never, ever recognize Israel as the Jewish state, meaning he will never recognize Israel. During his speech to the U.N. General Assembly last month he reverted to P.L.O. language from the 1970s, referring to Israel repeatedly as "the occupying Power," and "the racist occupying State."...
Click here for the complete article, or copy and paste this link into your web browser:
http://www.unitycoalitionforisrael.org/uci_2014/?p=10875
---
What The "Two State Solution" Has to Do with the Rise of Islamic Extremism: Zero
Khaled Abu Toameh
The Gatestone Institute

, October 20, 2014
U.S. Secretary of State John Kerry's claim that the lack of a "two-state solution" has fueled the rise of the Islamic State [IS] terrorist group reinforces how clueless the U.S. Administration is about what is happening in the Arab and Islamic countries.

Speaking at a State Department ceremony marking the Muslim holiday of Eid al-Adha, Kerry said that the resumption of peace negotiations between Israel and the Palestinians was vital in the fight against Islamic extremism, including Islamic State.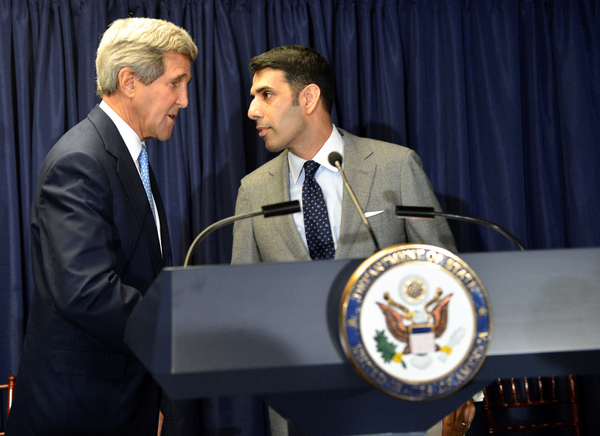 'Forget ISIS... let's talk more about a Palestinian state.' Left, U.S. Secretary of State John Kerry greets U.S. Special Representative to Muslim Communities Shaarik Zafar during an Eid al-Adha reception on Oct. 16, 2014 at the U.S. Department of State in Washington, D.C.
(Image source: State Dept.)

"There wasn't a leader I met with in the region who didn't raise with me spontaneously the need to try to get peace between Israel and the Palestinians, because it was a cause of recruitment and of street anger and agitation," Kerry said. "People need to understand the connection of that. And it has something to do with the humiliation and denial and absence of dignity."

The U.S. State Department later denied that Kerry had made the statement attributed to him.

Deputy Spokesperson Marie Harf told reporters that Kerry's comments were distorted for political gains; she pointed a finger at Israeli Economy Minister Naftali Bennett.

"What [Kerry] said was that during his travels to build a coalition against the Islamic State, he was told that should the Israeli-Palestinian conflict be resolved, the Middle East would be a better place," Harf explained.

The Islamic State is one of the by-products of the "Arab Spring," which began as a secular revolt against Arab dictatorships and degenerated into anarchy, lawlessness, terrorism and massacres that have claimed the lives of hundreds of thousands of Arabs and Muslims....
Click here for the complete article, or copy and paste this link into your web browser:
http://www.unitycoalitionforisrael.org/uci_2014/?p=10876
---
Hamas reconstructing damaged Gaza attack tunnel
Elhanan Miller
Times of Israel

, October 19, 2014
...Israel launched a ground incursion in the Gaza Strip on July 17, nine days into Operation Protective Edge, in order to destroy dozens of tunnels dug for the purpose of kidnapping Israeli soldiers or carrying out a large-scale attacks against targets along the Israeli border. That same day, Israel intercepted 13 Hamas operatives who had entered the country through a tunnel, emerging near Kibbutz Sufa.

By the end of the war in Gaza, on August 26, the IDF claimed to have destroyed all 31 known tunnels leading into Israel, but senior officers admitted that "one or two" tunnels could have gone undetected.


Ban Ki-moon touring a Hamas-built tunnel in southern Israel on October 14, 2014.
(Photo credit: Haim Zach/Flash90/GPO)

During a tour of an exposed tunnel last week, UN Secretary General Ban Ki-moon said he was "shocked by the tunnels used for the infiltration of terrorists," but fell short of calling for Hamas's disarmament.

Indeed, a spokesman for Hamas's Al-Qassam Brigades indicated during a rally in Gaza on October 9 that Hamas still maintains its offensive tunneling capabilities, calling on young men to join the ranks of Hamas's fighters.

"The men of Al-Qassam are fine; the weapons of Al-Qassam are fine; the tunnels of Al-Qassam are fine, thank God," he said. "Our men will begin the next battle with their feet on the ground of Nahal Oz … and the other settlements on Gaza's periphery."...
Click here for the complete article, or copy and paste this link into your web browser:
http://www.unitycoalitionforisrael.org/uci_2014/?p=10877
---
Keep calm and Kerry on
Dan Margalit
Israel Hayom

, October 19, 2014
...we must ask ourselves, why people are linking the rise of the Islamic State group in this malignant part of the world with the Israeli-Palestinian conflict? Do those two have anything in common? No. Absolutely not. That U.S. Secretary of State John Kerry has failed to grasp this reality is just mind-boggling.

For al-Qaida, the Taliban, ISIS, Hezbollah, Hamas and the Muslim Brotherhood there is no such thing as a two-state solution. This is just a fact. Even if Israel were to agree to each and every one of Palestinian Authority President Mahmoud Abbas' dictates -- from setting a timetable for a total withdrawal and announcing a construction freeze in Jerusalem -- this would have zero impact on the ongoing battle for Kobani, nor would it have changed things in any other hot spot in Syria and Iraq.

Those who toppled Egyptian President Hosni Mubarak, killed Libyan President Moammar Gadhafi and beheaded the Christians who have been kidnapped by ISIS have shown zero interest in resolving the complicated situation in Judea and Samaria. They are the product of the rampant deprivation in the region; their actions are fueled by their ongoing persecution (as they see it) and the rise of violent Islamic radicals. This sentiment is shared by newly minted Westerners who have emigrated from the Muslim world.

Islamic sociology bears no relevance to the ongoing conflict here at home. Only Kerry and like-minded individuals -- radical Israeli lefties -- think otherwise. Perhaps the U.S. has failed to appreciate just how much things have changed in this region since President Barack Obama delivered his Cairo address. This lack of understanding was just recently manifested by Kerry's statement, where he cited the lack of progress in the peace talks as an obstacle to the war on ISIS. The American posture can also be explained through naivete. It appears that American policy makers are convinced that any crisis can be solved through good-faith negotiations....
Click here for the complete article, or copy and paste this link into your web browser:
http://www.unitycoalitionforisrael.org/uci_2014/?p=10878
---
Facing Iran at the margins of time
Louis Rene Peres
The Jerusalem Post

, October 14, 2014
Hassan Rouhani. (photo credit:Reuters)

International law is not a suicide pact. Fashioned, above all, to ensure the survival of imperiled states in an anarchic world, these binding rules include the "inherent" right of self-defense. This core prerogative may be exercised not only after an attack has already been suffered, but also, sometimes, in advance. The sensitive legal issues involved are now potentially urgent, especially in the always- refractory case of Iranian nuclear weapons development.

Could an Israeli preemption – a defensive first strike – still be permissible under international law? Before answering this key question, it is vital to point out that strategy and jurisprudence represent altogether different and usually discrete domains of policy assessment. It is entirely plausible that Israel could have every right under international law to undertake certain forms of preemption, but still conclude that this course of action would no longer be militarily reasonable or cost-effective. At the same time, an awareness of possible permissibility under law could itself become a factor in making any timely strategic decision.

What exactly does world law say about preemption in general? Although the written rules of the UN Charter reserve the right of self-defense exclusively to states that have already suffered an attack (see Article 51), an equally valid customary law permits a first use of force if the danger posed is "instant, overwhelming, leaving no choice of means and no moment for deliberation."

Drawn from an 1837 event in history known as The Caroline – which concerned the unsuccessful rebellion in Upper Canada against British rule – this often inconspicuous doctrine builds solidly upon the 17th-century formulations of Hugo Grotius.

Self-defense, said the classic Dutch scholar in The Law of War and Peace (1625), may be permitted "not only after an attack has already been suffered, but also in advance, where the deed may be anticipated."...
Click here for the complete article, or copy and paste this link into your web browser:
http://www.unitycoalitionforisrael.org/uci_2014/?p=10879
---
Congo: Islamic jihadists murder at least 22, including 8 children
Robert Spencer
Jihad Watch

, October 19, 2014
"This is a genocide, the way in which the ADF kills these people." Of course, we know already that it has nothing to do with Islam, but will any of the learned analysts kindly explain why Muslims around the world are misunderstanding Islam in exactly the same way?

"Eastern Congo Violence: Islamist Rebels Kill At Least 22, Including Eight Children," by Avaneesh Pandey, International Business Times, October 18, 2014:

Just days after 27 people were killed in Congo by suspected Ugandan rebels, 22 people, including at least eight children, were killed in a fresh attack in the conflict-ridden eastern region of the country on Saturday, according to a report by Agence France-Presse, or AFP. Militants belonging to the Islamist group Allied Democratic Forces – National Army for the Liberation of Uganda, or ADF-NALU, are suspected to be behind the attacks....
Click here for the complete article, or copy and paste this link into your web browser:
http://www.unitycoalitionforisrael.org/uci_2014/?p=10880
---
'A diplomatic storm is coming in January'
Itamar Eichner
YNet News

, October 19, 2014
...Should the Palestinians petition for a full membership at the United Nations, this is how the member states are likely to vote:

The permanent states:
United States - will object.
Russia - will likely support, in order to embarrass the Americans and force them to veto.
China - will likely support, in order to embarrass the Americans and force them to veto.
Britain - has yet to decide, but after its parliament voted to recognize a Palestinian state in a symbolic move, it is likely the Brits will remain on the fence until the very last moment.
France - has yet to decide.
The non-permanent states:
Chile - leaning towards support.
Lithuania - leaning towards objecting.
Jordan - will support the decision.
Chad - will support the decision.
Nigeria - on the fence.
The new non-permanent states:
New Zealand - yet to decide
Spain - yet to decide
Angola - yet to decide.
Malaysia - will support the decision.
Venezuela - will support the decision.
Israel's hope: American veto

The council has 15 members, five of them permanent and ten of them are non-permanent. In order to pass a resolution, a nine vote majority is required. Even if the resolution passes, each of the permanent members has the right to veto the decision....
Click here for the complete article, or copy and paste this link into your web browser:
http://www.unitycoalitionforisrael.org/uci_2014/?p=10881
---
THE BATTLE FOR TRUTH:
We have engaged in the Battle for Truth for twenty-two years. To understand our mission in the Battle for Truth, please watch the brief video below of UCI featuring Israel's Prime Minister Netanyahu and Esther Levens, Founder of the Unity Coalition for Israel.


In 2013, UCI has had much activity and many accomplishments. We have addressed major issues in the turbulent Middle East and have kept our readers, the U.S. Congress and U.S. Media outlets apprised of all the momentous events through our Daily Newsletters, Media and Action Alerts, as well as Press Releases. In the coming years we will continue to Battle for Truth, for the United States, for the World, but most importantly: for the nation of Israel.