THE BATTLE FOR TRUTH:
We have engaged in the Battle for Truth for twenty-two years. To understand our mission in the Battle for Truth, please watch the brief video below of UCI featuring Israel's Prime Minister Netanyahu and Esther Levens, Founder of the Unity Coalition for Israel.
In 2013, UCI has had much activity and many accomplishments. We have addressed major issues in the turbulent Middle East and have kept our readers, the U.S. Congress and U.S. Media outlets apprised of all the momentous events through our Daily Newsletters, Media and Action Alerts, as well as Press Releases. In the coming years we will continue to Battle for Truth, for the United States, for the World, but most importantly: for the nation of Israel.
Editor's Note:
Thursday April 24, 2014
THE THIRD JIHAD by the Clarion Project




Radical Islam's Vision for America




In 1988, the FBI discovered a secret Muslim Brotherhood document which laid out their plans to replace the Constitution with Islamic Sharia law.




YouTube video - 1:01:48



JERUSALEM ONLINE-Your Link to Israel
PRIME MINISTER BENJAMIN NETANYAHU'S comments on the agreement between Fatah and Hamas:
"I said this morning that Abu Mazen needs to choose between peace with Israel and an agreement with Hamas, a murderous terrorist organization that calls for the destruction of the State of Israel and which both the United States and the European Union define as a terrorist organization.
This evening, as talks are still ongoing about extending the negotiations, Abu Mazen has chosen Hamas and not peace.
Whoever chooses Hamas does not want peace."

HAMAS TV CLIP: "Our harvest is your heads"
YouTube video - 01:15 (Apr. 24, 2014)

EXCELLENT ANALYSIS OF DICTATORSHIP AND RELIGIOUS PERSECUTION
Raymond Ibrahim interviewed on New Zealand's Shine TV about Islam, dictators, and Christian persecution.
YouTube video - 09:49 (Apr. 23, 2014)
---
Contents: (summaries below)
---
Liberman: Peace impossible as long as Palestinian unity deal stands
Raphael Ahren
Times of Israel

, April 24, 2014

Foreign Minister Avigdor Liberman on April 02, 2014. (photo credit: Flash90)

There is no chance for Israeli-Palestinian peace as long as Palestinian Authority President Mahmoud Abbas's Fatah faction sticks with the reconciliation deal it signed with Hamas, Foreign Minister Avigdor Liberman said Thursday.

He said the deal meant Israel "has no partner" and said it signified a move toward Hamas gaining greater influence in the West Bank.

Reiterating his claim that Abbas is guilty of "diplomatic terror," Liberman said Israel wasn't surprised by the Fatah-Hamas pact, as Abbas had tried several times to blow up the Israeli-Palestinian talks during the last few months. He also said that he expects international pressure on Israel to continue engaging in the current US-brokered peace talks, yet asserted that Washington supported Jerusalem's decision to cancel a meeting of Israeli and Palestinian negotiators....
Click here for the complete article, or copy and paste this link into your web browser:
http://www.unitycoalitionforisrael.org/uci_2014/?p=8134
---
Hamas deal last straw for Congress on US aid to Palestinians
Julian Pecquet
al-monitor.com

, April 23, 2014
Rep. Ileana Ros-Lehtinen, R-Fla., the author of the Palestinian Anti-Terrorism Act, called for an immediate suspension of US aid to the Palestinian Authority (PA). The 2006 law, passed after Hamas won that year's legislative elections, prohibits support for a "Hamas-controlled Palestinian Authority."

"The Administration must halt aid to the Palestinian Authority and condition any future assistance as leverage to force Abu Mazen [Mahmoud Abbas] to abandon this reconciliation with Hamas and to implement real reforms within the PA," Ros-Lehtinen, who chairs the House Foreign Affairs panel on the Middle East, said in a statement. "U.S. law is clear on the prohibition of U.S. assistance to a unity Palestinian government that includes Hamas, a designated Foreign Terrorist Organization, and President [Barack] Obama must not allow one cent of American taxpayer money to help fund this terrorist group."

Her Democratic counterpart on the subcommittee, Ted Deutch of Florida, issued a similar warning....
Click here for the complete article, or copy and paste this link into your web browser:
http://www.unitycoalitionforisrael.org/uci_2014/?p=8135
---
Abu Mazen outlines the terms for the continuation of negotiations
Zehavit Zaslansky
Reuters

, April 22, 2014
Chairman of the Palestinian Authority, Abu Mazen, said today that he is prepared to extend talks with Israel by 9 months, if Israel satisfies three conditions. He was speaking to Israeli reporters in Ramallah.

The first condition is the release a fourth group of prisoners, including 14 Arab Israelis. Abu Mazen referred to the demand made by Head of the ISA Yoram Cohen and emphasized he will not agree to the prisoners' deportation to the Gaza Strip or abroad. A further condition is a freeze on building in settlements.

Officials in Jerusalem responded by clarifying Israel will refuse a freeze on building in East Jerusalem. In addition, Abu Mazen demands a discussion on the issue of borders – one of the core issues in the negotiations – despite the fact that Israel is opposed to a discussion of this issue at this early stage in negotiations.
Click here for the complete article, or copy and paste this link into your web browser:
http://www.unitycoalitionforisrael.org/uci_2014/?p=8136
---
Syrian rebels get SA-16 anti-aircraft missiles after receiving advanced anti-tank weapons
DEBKAfile Exclusive Report
DEBKAfile

, April 22, 2014

SA-16 anti-tank missile

Syrian rebels have been sighted wielding anti-aircraft weapons in various combat sectors including the Damascus region in the last few days. Just as on April 6, debkafile was the first publication to disclose the arming of Syrian opposition forces with their first US weapons, BGM-71 TOW anti-tank missiles, our military sources now reveal that they have also acquired - and are using - Russian-made 9K310 Igla-1 aka SA-16 anti-aircraft rockets, which have an operational range of 5.2 km.

The SA-16 is not new, but it is effective and has been widely used for the past 30 years by various armies in several world conflicts.

According to our sources, the very US-Saudi suppliers, who brought the TOW missiles to certain Syrian rebel units through Jordan and Turkey, are now consigning the anti-tank weapons through the same route.

But although the rebels are now armed for the first time in the more than three-year conflict with a weapon for combating Bashar Assad's air force, it has come too late to reverse the tide of war. As the Syrian air force drops barrel bombs and chlorine gas canisters on indiscriminate targets, the rebel side continues to be in retreat against the Syrian army's pumped-up momentum....
Click here for the complete article, or copy and paste this link into your web browser:
http://www.unitycoalitionforisrael.org/uci_2014/?p=8137
---
Iran Finally Pays For Some of Its Terror
Steven Emerson
IPT News

, April 18, 2014
American victims of Iranian-sponsored terror may soon realize some degree of financial compensation as the result of a legal settlement announced in New York Thursday. U.S. Attorney Preet Bharara said the agreement covers judgments in 20 cases, and fully resolves 19 of them.

The U.S. Attorney's Office in Manhattan filed suit in 2008 against the Alavi Foundation, alleging the foundation was a money laundering front for the Iranian government. Certain properties within the U.S., including a skyscraper at 650 Fifth Avenue that may be worth more than $500 million, were subject to seizure and forfeiture by the U.S. government, the lawsuit claimed. Last September, the federal judge hearing the case ruled the Alavi Foundation and a collateral corporation knowingly served as fronts for the Iranian government.

On March 28, the judge ruled that several properties, including 650 Fifth Avenue, and bank accounts linked to the Alavi Foundation were subject to forfeiture. The other properties are Islamic centers in Queens, New York, Maryland, Virginia, Texas, and California. They include the Islamic Institute of New York, Islamic Education Center of Washington, Islamic Education Center of Houston and the Qoba Foundation in Carmichael, Cal....
Click here for the complete article, or copy and paste this link into your web browser:
http://www.unitycoalitionforisrael.org/uci_2014/?p=8138
---
State Department cites photo 'evidence' purportedly showing Russian troops in Ukraine
FoxNews.com

, April 22, 2014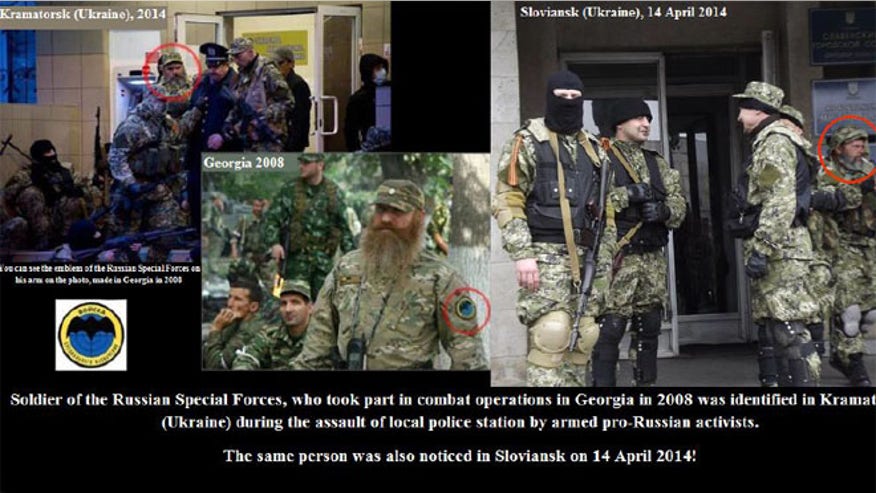 The State Department is vouching for photographic "evidence" that purports to show Russian special forces in eastern Ukraine, despite Vladimir Putin's claims that his operatives are not behind the unrest.

Ukraine's government has been circulating images over the last several days to international organizations, claiming they show "Russian sabotage-reconnaissance groups" at work in two eastern Ukrainian towns.

Their authenticity could not be independently verified, but State Department spokeswoman Jen Psaki said Monday they help bolster claims of ties between Russia and armed militants in eastern Ukraine.

"So these are just further evidence of the connection between Russia and the armed militants," she said....
Click here for the complete article, or copy and paste this link into your web browser:
http://www.unitycoalitionforisrael.org/uci_2014/?p=8139
---
Sharia in America: Democrats and Muslim Legislators seek to criminalize free speech
Pamela Geller
Atlas Shrugs

, April 21, 2014

There is very dangerous legislation making its way through both the House of Representatives and Senate that will finish the United States. The sharia bill calls for Islamic blasphemy laws — the criminalization of speech that offends or insults — who, exactly? Well, that is up to the enforcer, is it not?

On Wednesday, Senator Ed Markey (D-MA) introduced "The Hate Crime Reporting Act of 2014″ (S.2219), which seeks "to examine the prevalence of hate crime and hate speech on the Internet, television, and radio to better address such crimes." Congressman Hakeem Jeffries (D-NY) introduced a companion bill in the House – H.R. 3878.

Yes, we see, Hakeem. The first amendment protects all speech, not just speech that we like. Or else who would decide what's good and what's forbidden? Hakeem? When I was a young girl, the Nazis were given permission to march in a predominately Jewish neighborhood. In those days, Nazi meant something. Morality was still very much in the American DNA. Good and evil was understood — unlike today, where the left has banished such terms. Despite the horror of a Nazi march, they were given permission, and those of us who were repelled by such a monstrous action understood why permission was granted because of the underlying premise — free speech. I didn't worry that their Nazi ideas would take hold, as long as I could speak and others could speak in the free exchange of ideas. I knew I would win because my ideas were better. Individual rights was the greatest achievement of the enlightened....
Click here for the complete article, or copy and paste this link into your web browser:
http://www.unitycoalitionforisrael.org/uci_2014/?p=8140
---
Iran sweeps coveted UN rights posts
UN Watch
Canada Free Press

, April 23, 2014
GENEVA, - The United Nations today elected the Islamic Republic of Iran and more than a dozen other repressive regimes to top committees charged with protecting women's rights and with overseeing the work of human rights organizations, according to an exclusive report by UN Watch, a non-governmental Geneva-based human rights group.

Human rights activists are expressing outrage.

"Today is a black day for human rights," said Hillel Neuer, executive director of UN Watch. "By empowering the perpetrators over the victims, the UN harms the cause of human rights, betrays its founding principles, and undermines its own credibility."

"Civil society loses as repressive states win election," said the International Service for Human Rights (ISHR)....
Click here for the complete article, or copy and paste this link into your web browser:
http://www.unitycoalitionforisrael.org/uci_2014/?p=8141
---
Share this information now! Choose your social button below.