Click here to search our archives of over 200,000 news articles, action alerts, press releases and special reports.



Israel – Stand Firm on International Law!
Israel's Legal Right To Judea, Samaria and All of Jerusalem
Based on International Law.
Read more on San Remo

URGENT ACTION ALERT
DON`T LET OBAMA GIVE IRAN THE BOMB
AND A $50B BONUS
Please do not let President Obama give Iran the bomb and a $50 Billion dollar bonus. We are at a critical juncture in stopping a disastrous nuclear deal with Iran. President Barack Obama tells us the agreement will prevent Iran from obtaining a nuclear weapon, but the truth is that he`s desperate to get a deal, any deal.
Sign our Action Alert Today Click here
---
Editor's Note:
Friday May 29, 2015
---
The Glazov Gang
REGAINING INTEGRITY in the News and Entertainment Media
YouTube video - 20:11 (May 27, 2015)

JERUSALEM ONLINE-Your Link to Israel
ISLAMIC TERROR: Different Faces, Same Goal
The enemy of my enemy in NOT always my friend. With the Islamic State's rise to power, the world has been quick to form new friendships with old enemies.
YouTube video - 04:06 (May 27, 2015)

UN: 22,000 FIGHTERS from 100 countries in Syria and Iraq
Report suggests world unprepared to deal with ramifications of Islamic State's foreign recruits
CLICK HERE for video and article

Analysis: Growing sense that AIRSTRIKES ALONE WILL NOT DISLODGE the Islamic State group
CLICK HERE for photos and article

---

Click here to make a tax-deductible donation through PayPal or send your personal check to Unity Coalition for Israel, 3965 W. 83rd. Street #292, Shawnee Mission, KS 66208. A contribution of any amount will be appreciated.

MISSION STATEMENT: Our mission is to focus the efforts of secular and religious organizations in the defence of the free world. We educate our readers on security issues and radical ideologies, including global Islamic terrorism, affecting both Israel and all of Western Civilization.


info@unitycoalitionforisrael.org | 913-648-0022
We encourage you to forward our newsletters to your friends and other interested individuals and organizations. Click here to use our newsletter forwarding system
---
Contents: (summaries below)
---
While D.C. Downplays Risk, U.S. Sees Shocking Rise in Terror Arrests This Year
Patrick Poole
pjmedia.com

, May 27, 2015
The Islamic State, as well as al-Qaeda affiliates and other Islamic terror groups, have repeatedly called for supporters to conduct attacks inside the American homeland:
After the U.S. began bombing ISIS targets last September, the group called for attacks in response.


Just days after the Charlie Hebdo attack in Paris in January, a call for attacks targeting "intelligence officers, police officers, soldiers and civilians" was re-released.


In March, the group released a "kill list" including the names, photos, and addresses of U.S. military personnel.


This month, after the attempted terror attack in Garland, Texas, they claimed to have 71 trained operatives located in 15 American cities....
---
Counting Up Obama's Cataclysmic Foreign Policy Failures
Peter Wehner
commentarymagazine.com

, May 26, 2015
With the Islamic State expanding its reach after two key victories in Ramadi, the capital of Iraq's Anbar Province, and Palmyra, a strategically important city in Syria, it might be a good time to ask: What are the worst foreign policy failures of Barack Obama's presidency? The list is long; here are several to choose from.

1. The Rise of ISIS. President Obama failed to anticipate the rise of ISIS, which he ridiculed as a "jayvee team" as recently as last year, and he has since failed to do anything effective to impede it. ISIS had established territory in large parts of Syria and Iraq; it now "controls a volume of resources and territory unmatched in the history of extremist organizations." Under Mr. Obama's watch, a jihadist caliphate has been established in the heart of the Middle East — and the president has no strategy to deal with it.

2. Losing the War in Iraq. President Obama's predecessor handed to him a war that had been won. Don't take my word for it; take the word of Mr. Obama and his vice president. On December 14, 2011, in welcoming troops home at Ft. Bragg as he was ending the American presence in Iraq, the president declared "we're leaving behind a sovereign, stable and self-reliant Iraq." It was, the commander-in-chief said, a "moment of success." A year earlier Vice President Joe Biden put it this way: "I am very optimistic about Iraq. I think it's going to be one of the great achievements of this administration." All our hard-earned achievements were undone by the president's determined commitment to withdraw all American troops from Iraq during his presidency. He did what he was determined to do and, as a result, Iraq is collapsing and Iran is rushing in, increasing its influence to an unprecedented degree.

3. Failing to Aid Iran's Green Revolution. In the summer of 2009, a revolution in Iran threatened to topple the mullahs. Leaders of the so-called "Green Revolution" pleaded for support. They got none. President Obama, in saying he "want[ed] to avoid the United States being the issue inside Iran", did nothing to aid the pro-democracy elements that were seeking to overthrow the Islamic theocracy. Whether our assistance would have altered the course of events is impossible to know — but the president, in essentially casting his lot with the Iranian regime during its most vulnerable period since the 1979 revolution, ensured the democratic uprising would fail. And with it, our best chance of the Middle East cleansing itself of the most malignant and dangerous regime on earth....
---
Islamic State murders 262 as it takes Syrian city of Palmyra
Robert Spencer
jihadwatch.org

, May 27, 2015
The reign of terror won't end with this. Sharia itself is a slow-motion reign of terror: the stonings, the amputations, the institutionalized oppression of women and non-Muslims — it all creates an empire of fear.

"Islamic State executes 262 as it takes Syrian city of Palmyra, group says," CNN, May 26, 2015:

(CNN) – When Islamic State captures a city, the bloodshed is hardly over, as the militants summarily execute captive fighters and residents by the dozens. In Syria, they have killed more than 250 of them in less than two weeks.

At least 13 of the victims were children, said the Syrian Observatory for Human Rights, a Syrian expat watch group....
---
U.S. Saw Islamic State Coming, Let It Take Ramadi
Eli Lake
Bloomberg

, May 29, 2015
The U.S. watched Islamic State fighters, vehicles and heavy equipment gather on the outskirts of Ramadi before the group retook the city in mid-May. But the U.S. did not order airstrikes against the convoys before the battle started. It left the fighting to Iraqi troops, who ultimately abandoned their positions.

U.S. intelligence and military officials told me recently, on the condition of anonymity, that the U.S. had significant intelligence about the pending Islamic State offensive in Ramadi. For the U.S. military, it was an open secret even at the time.

The Islamic State had been contesting territory in and around Ramadi for more than a year and had spoken of the importance of recapturing the city. The U.S. intelligence community had good warning that the Islamic State intended a new and bolder offensive on Ramadi because it was able to identify the convoys of heavy artillery, vehicle bombs and reinforcements through overhead imagery and eavesdropping on chatter from local Islamic State commanders. It surprised no one, one U.S. intelligence official told me.

Other observers were willing to speak on the record about how many had seen the Islamic State's assault on Ramadi coming. "The operations on Ramadi have been ongoing for 16 months," said Derek Harvey, a former intelligence adviser to David Petraeus when he commanded the counterinsurgency strategy in Iraq. Harvey said many observers had seen the Islamic State's series of probing attacks and psychological operations aimed at the Iraqi army and local tribes: "Everyone knew that Ramadi for some reason was a major focus." He conceded that he did not know the exact timing of the Ramadi offensive beforehand and acknowledged that he was surprised at how effective the operations were....
---
Pentagon plans to arm Sunni fighters vs. ISIS
Kristina Wong
thehill.com

, May 27, 2015
The Pentagon has plans to provide military equipment to Sunni tribal fighters, a Defense spokeswoman said on Wednesday, a shift from its current policy to provide the equipment only through the central government in Baghdad.

The new plans come after Sunni tribal fighters faced an embarrassing defeat by the Islamic State in Iraq and Syria (ISIS) last week in Ramadi, the capital of Anbar Province. Fighters complained that they had not received payment or any U.S. military equipment from the central government.

"The Sunni Tribal units affiliated with the Iraqi government are currently trained by the Iraqi Security Forces and equipped by the Government of Iraq but there are plans to provide equipment directly to tribal fighters in the future, with the approval and coordination of the GOI [Government of Iraq]," said Pentagon spokeswoman Navy Cmdr. Elissa Smith in a statement.

Pentagon officials also confirmed the Sunni tribal fighters in Ramadi had not received any training from the U.S.-led train and equip program, a linchpin of the Obama administration's strategy to allow Iraqi forces to take on ISIS fighters on the ground and supplant the need for U.S. troops.

And although Congress approved a $1.6 billion Iraq Train and Equip Fund in December to provide weapons and equipment to the Iraqi Security Forces, including Sunni tribal fighters, it was unclear whether any of it had made it to Sunni forces who fought in Ramadi....
---
Hamas, Europe and How to Get a State
Uzay Bulut
gatestoneinstitute.org

, May 23, 2015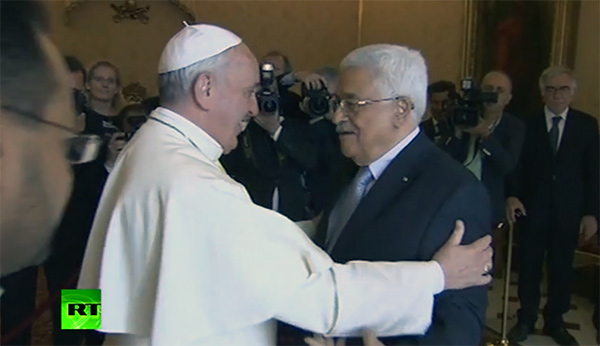 Pope Francis greets Palestinian leader Mahmoud Abbas at the Vatican, May 16, 2015.
(Image source: RT video screenshot)

Sadly, last year, Europe showed that terrorism and threats to commit genocide might just be the best way to acquire national independence.

In October 2014, the Britain's House of Commons voted in favor of a symbolic motion that stands as an initial stage of UK recognition of a "Palestinian state."

Then Sweden's government became the first major European country officially to recognize the state of "Palestine."...
---
Amnesty International: Hamas guilty of torture, summary executions
William Booth and Hazem Balousha
washingtonpost.com

, May 27, 2015
JERUSALEM — The human rights group Amnesty International charged Wednesday that Hamas, the Palestinian Islamist militant organization that controls the Gaza Strip, used the cover of last summer's war with Israel to carry out abductions, torture and ­extrajudicial executions with impunity.

The 50-day war left swaths of Gaza in ruins and thousands dead.

In a report, Amnesty International said the killing of Palestinians alleged to have collaborated with Israel constituted war crimes. The group also extended blame beyond Hamas to include the West Bank-based Palestinian Authority, saying it failed to stop or investigate the executions....
---
Shaked's first bill proposal: Harsher punishment for stone throwers
Moran Azulay
ynetnews.com

, May 28, 2015
...The objective of the legislation - which was previously proposed by Tzipi Livni but did not pass - is to provide legal tools to handle situations the current legislation does not cover, like stone-throwing at vehicles or police cars without the need to prove intention to harm.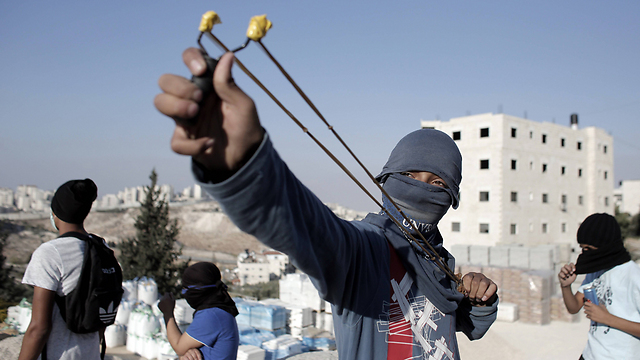 Palestinian uses sling to hurl stones in East Jerusalem (Photo: AFP)

A team headed by the government secretary discussed the issue before in an attempt to deal with a phenomenon which first started in East Jerusalem and has since spread to other places, necessitating changes to existing legislation.

In her proposal, Shaked will seek to reduce the large gap that exists between the penalty prescribed by the law, which is currently 20 years in prison, and the very light punishment provided in practice because of the difficulty in proving intent to harm - as required by the current law.

About a thousand indictments are served every year against stone-throwers, but the difficulty in proving the rioter's intent to cause damage is in many cases a factor in the minor penalties given, if at all....
---
---