Editor's Note:
Friday October 24, 2014
Turning off the AGING PROCESS


Israeli professors have developed a computer algorithm that predicts which genes can be "turned off" to create the same anti-aging effect as calorie restriction.


CLICK HERE for more information.



JERUSALEM ONLINE-Your Link to Israel
Inventing the "PALESTINIAN PEOPLE"
Who are the so-called "Palestinian people"? What are the origins of the Arabs who call themselves "Palestinians"? What does history have to say about their claim as natives of the land?
YouTube video - 07:01 (Sept 22, 2014)


Brian Lilley Mohamed Mohamed Mohamed &
BEHEADING PLAY
SUN News is one of the few networks in the Western World willing to report on facts and events that do not fit the politically correct agenda.
YouTube video - 05:31 (Sept 24, 2014)


DENMARK SERMON: There Can be No Division of Palestine with the Offspring of Apes and Pigs
YouTube video - 02:27 (Oct 12, 2014)
---
Contents: (summaries below)
---
New York: Man attacks cops with hatchet, police investigating possible tie to Islamic State calls for jihad attacks against police
Robert Spencer
Jihad Watch

, October 23, 2014
In late September, the Islamic State's spokesman, Abu Muhammad Al-Adnani, urged Muslims to murder non-Muslims in the West. "Rely upon Allah," he thundered, "and kill him in any manner or way however it may be. Do not ask for anyone's advice and do not seek anyone's verdict. Kill the disbeliever whether he is civilian or military, for they have the same ruling." He also addressed Western non-Muslims: "You will not feel secure even in your bedrooms. You will pay the price when this crusade of yours collapses, and thereafter we will strike you in your homeland, and you will never be able to harm anyone afterwards."

"Man attacks New York police officers with hatchet," by Shimon Procupez, CNN, October 23, 2014:

(CNN) — A man charged at four New York police officers Thursday afternoon, metal hatchet in hand, hitting one officer in the right arm and another in the head, the city's police commissioner said.

The two officers who weren't struck shot and killed the suspect, who has not been identified by name and is believed to be about 32 years old, according to police Commissioner Bill Bratton

The police officer who was struck in the head remains in critical but stable condition....
Click here for the complete article, or copy and paste this link into your web browser:
http://www.unitycoalitionforisrael.org/uci_2014/?p=12654
---
Abbas's Responsibility for Murder
Khaled Abu Toameh
gatestoneinstitute.org

, October 24, 2014
Now that the war in the Gaza Strip has ended, Abbas and the Palestinian Authority have shifted their focus to recent events in Jerusalem.

A few days before the terrorist attack in Jerusalem, Abbas strongly denounced Jews who visit the Temple Mount as a "herd of cattle."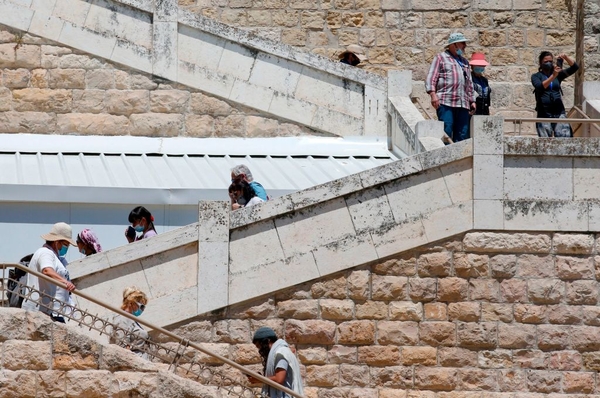 A video still of al-Shalodi driving along the station platform, hitting passengers.

Abbas told Fatah activists from Jerusalem who visited him in his office that they must make an effort to stop Jewish "settlers," "by all means," from "desecrating our holy sites."

Abbas added:

"We must prevent them from entering the Noble Sanctuary by all means. This is our Al-Aqsa. Al-Aqsa is a red line: Israel must be aware that the ongoing raids and attacks on Al-Aqsa will cause a volcanic explosion in the area that will reach Israel. Jerusalem is the eternal capital of the State of Palestine, and without it, there will be no state."
Click here for the complete article, or copy and paste this link into your web browser:
http://www.unitycoalitionforisrael.org/uci_2014/?p=12655
---
Unrest, instability, intifada - whatever its name, it's in Hamas's interest
Mitch Ginsburg
Times of Israel

, October 23, 2014
Whether the violence in Jerusalem since the gruesome murder of Muhammad Abu-Khdeir in July amounts to a Third Intifada will only be clear in hindsight. But what the murder on Wednesday of Chaya Zissel Braun has shown, beyond the ruthlessness of the act and the enduring tension in Jerusalem, is the shrewdness of Hamas's strategy of overthrowing the Palestinian Authority in the West Bank by, of all things, persistently killing innocent Israelis.

That is one of the ways Israel should view the recent developments in Jerusalem. When Abdel Rahman al-Shaludi, a Hamas member and relative of a former head of the organization's armed wing, turned his car into a lethal weapon on Wednesday, he was, whether by design or not, acting exactly according to the alleged Hamas coup plans exposed in August.

At the time, the Shin Bet said that it had exposed a Hamas plan to "overthrow the Palestinian Authority and seize control of Judea and Samaria."...
Click here for the complete article, or copy and paste this link into your web browser:
http://www.unitycoalitionforisrael.org/uci_2014/?p=12656
---
Defensible Borders in the Age of IS
Dore Gold
mosaicmagazine.com

, October 01, 2014
...Q: A final question. You argue that the Jordan Valley must be kept under Israeli control. Why can't Israel agree to international peacekeeping teams instead of the IDF, as is often proposed?

A: Israel has always been reluctant to base its defense on international forces, and when it's agreed to them it has suffered. Under challenge, such forces invariably back down or collapse. During the lead-up to the 1967 Six-Day War, President Nasser of Egypt demanded that the UN withdraw its peacekeeping force in Sinai. UN Secretary-General U Thant agreed to Nasser's demand, thereby removing the lone buffer between Israel's southern border and 90,000 massed Egyptian troops.

It used to be said that no one would ever dare attack international peacekeepers; the thought was just too outrageous to be entertained. That illusion has likewise been put to rest over the years. Overt acts of aggression can force UN peacekeepers to leave, while the mere threat of aggression has demonstrably compromised their neutrality or led to their being co-opted by enemy forces like Hizballah. Only the other week, on Israel's Golan Heights border with Syria, the al-Nusra front captured a contingent of Fijian soldiers from the UN Disengagement Observer Force and successfully held them for ransom. For all of these reasons, Israel's position has always been that it cannot leave itself exposed, and must defend itself by itself.

As for the Jordan Valley, it's worth remembering that, a month before his assassination in November 1995, Yitzhak Rabin declared in the Knesset that the future security border of Israel would be in the Jordan Valley, in the widest sense of that geographical term.

This is what's meant by defensible borders. Until the lion lies down with the lamb, there is simply no alternative to them, and no amount of wishful thinking will change that fact.

Dore Gold, president of the Jerusalem Center of Public Affairs, is a former ambassador of Israel to the United Nations (1997-1999) and the author of, among other books , Hatred's Kingdom, The Fight for Jerusalem, and The Rise of Nuclear Iran.
Click here for the complete article, or copy and paste this link into your web browser:
http://www.unitycoalitionforisrael.org/uci_2014/?p=12657
---
Iraqi Officials Say ISIS Militants Used Chlorine Gas
Associated Press
newsmaxworld.com

, October 24, 2014
Iraqi officials say Islamic State militants used chlorine gas during fighting with Iraqi security forces and Shiite militiamen last month north of Baghdad.

The use of chlorine gas as a weapon adds a new concern to the turmoil in the country.

A senior security official, a local official from the town of Duluiya and an official from the town of Balad say the IS group used bombs with chlorine-filled cylinders during September clashes.

They told The Associated Press on Friday that about 40 troops and militiamen were slightly affected by the chlorine and showed symptoms consistent with chlorine poisoning, such as difficulty in breathing and coughing. They were treated in hospital and quickly recovered.

The three spoke on condition of anonymity because they are not authorized to speak to media.
Click here for the complete article, or copy and paste this link into your web browser:
http://www.unitycoalitionforisrael.org/uci_2014/?p=12658
---
Twenty Years of Israeli-Jordanian Peace: A Brief Assessment
David Schenker
washingtoninstitute.org

, October 23, 2014
October 26 marks the twentieth anniversary of the Israeli-Jordanian peace treaty. Prior to the agreement's signing at Wadi Araba in 1994, the two countries had not fought a war since 1967, and their leaders had been in routine communication since the 1940s. Yet the treaty was far more than just a formalization of a de facto ceasefire -- it fundamentally changed the nature of the Israeli-Jordanian relationship, enhancing security, stability, and U.S. interests in a turbulent region.

For Israel, the treaty was its second with an Arab neighbor and helped secure its long eastern frontier. Coming so close on the heels of the Oslo agreements with the Palestinians, it also raised the possibility of new relationships with other Arab states. For Jordan, the agreement facilitated a reorientation away from the radical pro-Saddam camp, opening up new sources of urgently needed economic and military assistance from the West. It also cemented the kingdom's position in the roster of pro-Western Middle Eastern states. Today, the strategic relationship with Amman is Washington's closest with an Arab partner....
Click here for the complete article, or copy and paste this link into your web browser:
http://www.unitycoalitionforisrael.org/uci_2014/?p=12659
---
The Islamic State's media warfare
Ali Hashem
al-monitor.com

, October 22, 2014
When Abu Bakr al-Baghadi, the Islamic State's (IS) leader and self-styled caliph, appeared July 4 for the first time in Mosul, a symbolic venue was chosen by those who manage the media strategy of the world's most wanted terrorist group. Baghdadi chose the Great Mosque of al-Nouri, a Muslim prayer site built in 1172 by Noureddine Zangi, who's known to have paved the way for a strong Islamic state between Syria and Iraq and later expanded to Egypt and knocked down the Fatimid Dynasty. Zangi fought several battles against the Crusaders, vowing to liberate Jerusalem from their occupation. IS strategists played on this to try impose a comparison in the minds of those who are familiar with the mosque's history, to indicate what kind of state they are looking to build — one that can conquer the Shiite state Iran and one that is capable of fighting the West.

IS wanted to portray its caliph — who succeeds the Prophet Muhammad and represents God on earth — during the Friday sermon in July in the best way possible. From Baghdadi's outfit to the cameras used to broadcast the sermon, everything was planned to convey a message. Five high-definition cameras were placed inside and outside the mosque, all wired to a device operated by what appeared to be a professional technician, or maybe director, who created a professional 21-minute TV broadcast. This was IS' image of statehood.

"The Islamic State believes that media warfare is equal in importance to military warfare," Marwan Shehade, a Jordanian expert on Islamic movements, told Al-Monitor. "The media is essential when it comes to any of IS' activities; besides, they have been working on boosting their talents, especially with all the financial and human resources they acquired from around the Arab and Muslim world," he said. According to Shehade, IS had the chance to equip itself with cutting-edge technology. "Analyzing the latest videos broadcast by the group shows that they have cutting-edge tools and professional operators. I have to say that they are generous when it comes to their media machine, and they pay good money to professionals."...
Click here for the complete article, or copy and paste this link into your web browser:
http://www.unitycoalitionforisrael.org/uci_2014/?p=12660
---
THE BATTLE FOR TRUTH:
We have engaged in the Battle for Truth for twenty-two years. To understand our mission in the Battle for Truth, please watch the brief video below of UCI featuring Israel's Prime Minister Netanyahu and Esther Levens, Founder of the Unity Coalition for Israel.


In 2013, UCI has had much activity and many accomplishments. We have addressed major issues in the turbulent Middle East and have kept our readers, the U.S. Congress and U.S. Media outlets apprised of all the momentous events through our Daily Newsletters, Media and Action Alerts, as well as Press Releases. In the coming years we will continue to Battle for Truth, for the United States, for the World, but most importantly: for the nation of Israel.