Click here to search our archives of over 200,000 news articles, action alerts, press releases and special reports.



---
Editor's Note:
Thursday March 26, 2015
JERUSALEM ONLINE-Your Link to Israel
SAUDI ARABIA Leads Air Assault in Yemen
CLICK HERE for article and video

Will Netanyahu Continue JEWISH CONSTRUCTION in Judea & Samaria?
Former Yesha Council Spokesman Elie Pieprz tells VOI's Josh Hasten that he believes PM Netanyahu will withstand world pressure and continue to develop Jewish communities in Jerusalem and in Judea and Samaria.
Audio recording -11:14 (Mar 22, 2015)

CHILDREN'S ARMY of Hamas - short
YouTube video - 09:42 (Mar 22, 2015)

---

Click here to make a tax-deductible donation through PayPal or send your personal check to Unity Coalition for Israel, 3965 W. 83rd. Street #292, Shawnee Mission, KS 66208. A contribution of any amount will be appreciated.

MISSION STATEMENT: The mission of Unity Coalition for Israel is to focus the efforts of secular and religious organizations in the defense of the free world. We educate these organizations and individuals on security issues and radical ideologies, including global Islamic terrorism, affecting both Israel and all of Western Civilization.

We encourage you to forward our newsletters to your friends and other interested individuals and organizations. Click here to use our newsletter forwarding system
---
Contents: (summaries below)
---
Bennett, Lieberman put controversial legislation at center of coalition talks
Moran Azulay
ynetnews.com

, March 24, 2015
The policy of the new Israeli government is at the center of coalition talks this week, with Bayit Yehudi and Yisrael Beytenu demanding the passage of controversial legislation on capital punishment and Israel's status as the Jewish state.

The Bayit Yehudi party, headed by Naftali Bennett, says it will insist on the passage of the nationality bill and the so-called NGOs bill, while Avigdor Lieberman's Yisrael Beytenu announced it would not give up on the demand to enshrine in law capital punishment for convicted terrorists.

Meanwhile, United Torah Judaism launched talks with Kulanu leader Moshe Kahlon over the composition of the powerful Finance Committee.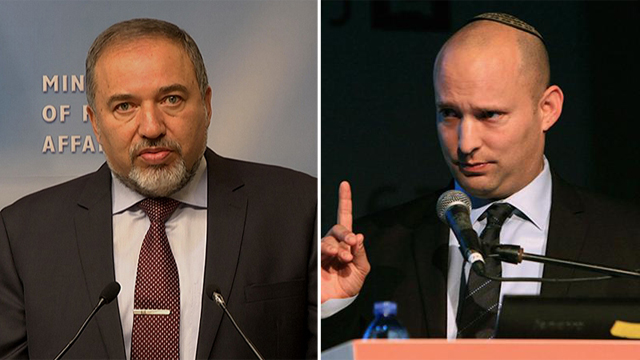 Lieberman and Bennet - demanding controversial legislation
(Photo: Anar Green, Eli Mendelbaum)

President Reuven Rivlin met with representatives of all parties on Sunday and Monday, and is expected to task Prime Minister Benjamin Netanyahu with forming the next government, after 67 MKs recommended the Likud leader. Likud took 30 Knesset seats in last week's elections, six more than its key rival, the Zionist Union.

Central Elections Committee Chairman Salim Joubran will meet with the president Wednesday [Mar 25, 2015], to submit the official election results. Netanyahu will likely be called to the President's Residence on the same day for an official ceremony in which Rivlin will ask him to form the government....
Click here for the complete article, or copy and paste this link into your web browser:
http://www.unitycoalitionforisrael.org/uci_2014/?p=13532
---
Israel, Hamas and Hizbollah on a Collision Course: Undesirable yet Inevitable
Orit Perlov
INSS Insight No. 674

, March 16, 2015
...Conclusion

Despite their inherent geographical and strategic differences, neither the northern front nor the southern one is interested in escalation. By contrast, one could say that, in both cases, regional developments, especially the rise of Radical Islamic movements [The Islamic State and Al-Nusra Front], are creating a chain reaction whose ripples affect both fronts and indirectly undermine the stability of the arenas of conflict between Israel and its neighbors. The Ansar Bait al-Maqdis organization operates in Sinai against the Egyptian regime in an attempt to undermine it, partly through connections with Hamas in Gaza, as attributed by the Egyptians. An escalation in the group's operations, and countermoves by the Egyptian regime, including ramping up the pressure on Hamas in Gaza, are liable to cause an explosion in the Gaza Strip that would be directed against Israel. The presence of Jabhat al-Nusra forces in the Golan Heights represents a danger to the interests of Hizbollah and Assad's regime in their sphere of influence south of Damascus and Beirut, and a countermove by Hizbollah is liable to result in a confrontation between the organization and Israel.

Both scenarios – a clash between Israel and Hamas in Gaza and one between Israel and Hizbollah in southern Syria – seem possible in the foreseeable future. Only a change in the strategic reality in Gaza and southern Syria, as the result of a political initiative, a change in the regional balance of power, or any other major shift, may be able to divert the players off their collision course.
Click here for the complete article, or copy and paste this link into your web browser:
http://www.unitycoalitionforisrael.org/uci_2014/?p=13533
---
ISIS, the Fourth Reich: VS Naipaul calls group 'most potent threat to the world'
in.com

, March 23, 2015
Constantly in the news for human rights abuse and war crimes, Islamic extremist rebel group Islamic State or ISIS is not exactly unknown any more. Believers in a one-world government, ISIS has been accused of among other things: ethnic cleansing, beheading, mass-executions, organ trafficking and killing members of the press. They are also notoriously popular on Twitter, luring young boy and girls to abandon their life to join the larger purpose of ISIS. In the wake of this, nobel-prize winning author V S Naipaul has called ISIS the Fourth Reich. In an article in the Daily Mail, he writes about how the religious outfit is dedicated to a contemporary holocaust, has a belief in its own racial superiority, and produces propaganda that Goebbels would be proud of. The op-ed starts with Naipaul asking us to imagine queues of helpless men and women being executed for no reason, being forced into sexual slavery, and men being thrown off cliffs because they are gay. He then asks us to realize that clips of these absurdities have been filmed and broadcast for a reason: fundamentalist propaganda. He makes comparisons with previous outfits like Al-Qaeda and Boko Haram, delving into the reasoning behind their crimes, calling the ISIS activities "unspeakable barbarity". Naipaul points out that Isis is "dedicated to a contemporary holocaust" since it has promised to eliminate the followers of virtually every other religion and that it could "credibly abandon the label of Caliphate and call itself the Fourth Reich." He also raises some relevant questions. "Are Isis and its followers heretics? The politicians of Europe and America, including David Cameron, Barack Obama and Francois Hollande, after every Islamist outrage insist on describing them as a lunatic fringe. Their constant refrain is that these perpetrators of murder and terror have as much to do with Islam as the Ku Klux Klan has to do with Christianity or the testament of Jesus Christ. But does such political assurance bear scrutiny?" writes Naipaul. It may be a subjective opinion, but Naipaul stands firm on his stance: "Isis has to be seen as the most potent threat to the world since the Third Reich."
Click here for the complete article, or copy and paste this link into your web browser:
http://www.unitycoalitionforisrael.org/uci_2014/?p=13534
---
'The Only Rational Goal for America and Israel: Dismantle Islam'
Prof. Paul Eidelberg
adinakutnicki.com

, March 23, 2015
Since Islam has declared war against America and Israel, PM Benjamin Netanyahu and a new American President should organize for their respective countries a strategy board whose purpose is to formulate and implement an 8-pronged strategy for dismantling Islam by (1) Political, (2) Diplomatic, (3) Psychological, (4) Economic, (5) Military, (6) Electronic, (7) Clandestine, and, above all, (8) Theological means. Here is what each nation should do according to its respective capabilities:

1. Table a Resolution in the UN General Assembly demanding the expulsion of Iran from the UN. For this purpose the Resolution should cite Iran's many violations of (a) the UN Charter; (b) the Universal Declaration of Human Rights; (c) the anti-Genocide Convention, citing Teheran's malediction "Death to America," its vow to "Wipe Israel of the map"; and (d) its sponsoring mosques that advocate jihad and foster hatred of America and Western Civilization.

2. Pressure various nations that receive American aid to sever diplomatic relation with Iran.

3. Establish a counterpart to the Voice of America to publicize the vicious policies of Iran....
Click here for the complete article, or copy and paste this link into your web browser:
http://www.unitycoalitionforisrael.org/uci_2014/?p=13535
---
The Middle East Nuclear Race Is Already Under Way
Karl Vick
time.com

, March 23, 2015
...The expense alone may prevent some Middle Eastern nations from ever actually joining the "nuclear club." Building an atomic plant costs at least $5 billion, Fitzpatrick notes, and Egypt is desperately poor; Jordan relies heavily on remittances and foreign aid. But the Saudis still have money to burn and, according to former White House official Gary Samore, have consistently rebuffed U.S. imprecations to sign a pledge not to divert any nuclear program toward producing a bomb (a pledge the UAE took). Saudi Arabia has signed the Nuclear Non-Proliferation Treaty, but then so has Iran, and in the end a race can be run by as few as two: India and Pakistan, bitter neighbors, neither of which are rich, went nuclear in 1974 and 1998, respectively. They've gone to war once since, raising anxiety levels around the world.

So the talks in Switzerland are about more than preventing Iran from getting the bomb. They are also about persuading Iran's neighbors that the nuclear option is effectively off the table. If the talks end with a final agreement that looks like a win for the Islamic Republic, diplomats say its neighbors will fast track their own plans. "If the accord is not sufficiently solid then regional countries would say it's not serious enough, so we are also going to get the nuclear weapon," French Foreign Minister Laurent Fabius told Europe 1 Radio on Saturday. "And that would lead to an extremely dangerous nuclear proliferation."
Click here for the complete article, or copy and paste this link into your web browser:
http://www.unitycoalitionforisrael.org/uci_2014/?p=13536
---
Disarm and Modernize
John Mecklin, Illustrations by Carl de Torres
foreignpolicy.com

, March 24, 2015
...Numbers show the slowdown in arms-control progress: The U.S. nuclear stockpile was reduced by only about 300 warheads from 2009 to 2013, and Russia retired about 1,000 weapons, Kristensen and Norris have written. These reductions were at a much slower pace than those in the previous five-year period, when Washington nixed more than 3,000 weapons and Moscow roughly 2,500 in a spring-cleaning of outdated and unreliable arsenals. Now, the Ukraine crisis seems likely to further slow the arms-control process. And, in general, the relatively sluggish reduction rate suggests that U.S. and Russian arsenals are not so much headed toward zero as plateauing for the foreseeable future.

In the face of this deceleration, the world's patience is wearing thin. Many of the 185 countries that agreed not to build nukes have become increasingly unhappy. Three conferences held in the past few years on the humanitarian effects of nuclear weapons were seen widely as attempts to force the nuclear powers to move faster on disarmament. The nuclear club largely ignored the first two conferences, sponsored by the governments of Norway and Mexico. But the events had grown to include most of the world's non-nuclear-weapons countries by the time of the third gathering, held in Vienna in December 2014 and sponsored by the Austrian government; more than 150 countries signed up to attend. In the end, the United States sent a representative, though with the disclaimer that "this conference is not the appropriate venue for disarmament negotiations or pre-negotiation discussions."



The United States and Russia have more than 90 percent of the 16,000-plus nuclear weapons on the planet today. North Korea also holds nuclear weapons, though the extent of its program remains unknown. (Source: Federation of American Scientists.)...
Click here for the complete article, or copy and paste this link into your web browser:
http://www.unitycoalitionforisrael.org/uci_2014/?p=13537
---
New Orleans student group launches petition to divest from Palestinian Authority
JNS.org

, March 24, 2015
A group of students at the University of New Orleans has launched an initiative to both combat the Boycott, Sanctions and Divestment (BDS) movement against Israel and call on the U.S. government to stop funding the Palestinian Authority (PA).

The "Allies of Israel" group, which calls itself a "grassroots college organization dedicated to the promotion of the Jewish state of Israel as a sovereign nation rooted in Jewish principles, and serving as a haven for Jews all over the globe," issued a petition intended "to raise awareness about the human rights abuses perpetrated by the Palestinian Authority against the Palestinians and Israelis in the West Bank; to call for accountability in the foreign aid given to the Palestinian Authority and ensure it is not used to persecute Palestinians or Israelis."

The campaign was organized by pro-Israel student activist Chloe Valdary, who told the Haym Salomon Center that "in order to give expression to the Jewish struggle for freedom, my organization 'Allies of Israel' has launched a campaign to symbolically divest from the Palestinian Authority."...
Click here for the complete article, or copy and paste this link into your web browser:
http://www.unitycoalitionforisrael.org/uci_2014/?p=13538
---
Israel's Elbit to supply US Marines with laser system
Yaakov Lappin
jpost.com

, March 22, 2015
Israel's Elbit to supply US Marines with laser system. (photo credit:ELBIT)

Israeli defense company Elbit Systems announced Sunday that it has been awarded with a $73.4 million contract from the US Marine Corps to supply a laser system that enables soldiers in concealed positions to carry out imaging, range finding and navigation in combat arenas.

The contract, valid until 2020, was awarded to Elbit Systems of America – a subsidiary of Elbit Systems – to supply the Common Laser Range Finder-Integrated Capability system to the marines.

"To date, Elbit Systems of America has received an initial order in the amount of $7.5 million" under the contract, the company said. Ra'anan Horowitz, president and CEO of Elbit Systems of America, said the laser system is lightweight and mission-ready for the foot-mobile marine....
Click here for the complete article, or copy and paste this link into your web browser:
http://www.unitycoalitionforisrael.org/uci_2014/?p=13539
---
---