Click here to search our archives of over 200,000 news articles, action alerts, press releases and special reports.



---
Editor's Note:
Thursday March 05, 2015
JERUSALEM ONLINE-Your Link to Israel
LATEST ON ISIS AND IRAN IN IRAQ
Quds force leader, commanding Iraqi forces against ISIS, alarms Washington


View video and read article HERE



Netanyahu's ZERO-SUM GAME on Iran


View video and read article HERE



BBC goes inside GAZA TUNNELS


YouTube video - 03:25 (Feb 26, 2015)



BE STRONG, ISRAEL


Beautiful Hebrew music video - 05:12 (Apr 8, 2010)

---

Click here to make a tax-deductible donation through PayPal or send your personal check to Unity Coalition for Israel, 3965 W. 83rd. Street #292, Shawnee Mission, KS 66208. A contribution of any amount will be appreciated.

MISSION STATEMENT: The mission of Unity Coalition for Israel is to focus the efforts of secular and religious organizations in the defense of the free world. We educate these organizations and individuals on security issues and radical ideologies, including global Islamic terrorism, affecting both Israel and all of Western Civilization.

We encourage you to forward our newsletters to your friends and other interested individuals and organizations. Click here to use our newsletter forwarding system
---
Contents: (summaries below)
---
Bibi's grand slam: Boxing in Obama on Iran's nukes
John Podhoretz
nypost.com

, March 03, 2015
On Tuesday, Bibi Netanyahu gave the speech of his life before a joint session of Congress — and he has Barack Obama to thank for it.
Yes, the very same Barack Obama who hates Bibi, the same Obama who was furious the speech was being given at all, walked the bases full for Netanyahu and served up the sucker pitch he hit for a grand slam.
For six weeks, the president and his team have been letting it be known just how angry they are that the leader of the House of Representatives invited the Israeli prime minister to speak about the threat from Iran.
The enraged leaks and overt hostility toward the head of state of an ally have been unprecedented.
The White House even tried to engineer a mass Democratic boycott of the speech, an effort that either (take your pick) met with success because 50 members of his party agreed to it, or was a failure because 75 percent of elected Democrats on Capitol Hill defied him and chose to attend.
What did all of this do? It made the Netanyahu speech the most important political event of 2015 by far.
It elevated Netanyahu's powerful case against a nuclear deal with Iran to the highest level possible — so that the leader of a country of 8 million people roughly the size of New Jersey now possesses as much authority to discuss the issue as the leader of the free world....
Click here for the complete article, or copy and paste this link into your web browser:
http://www.unitycoalitionforisrael.org/uci_2014/?p=13410
---
In blistering speech, PM warns 'bad' deal 'paves path' to Iranian nukes
Itamar Sharon and Marissa Newman
timesofisrael.com

, March 03, 2015
Prime Minister Benjamin Netanyahu warned Tuesday in a landmark address to the joint houses of Congress that a nuclear deal taking shape between Iran and Western powers "paves the path for Iran" to a nuclear arsenal, rather than blocking it, and urged American leaders to walk away from what he called "a very bad deal."

The emerging agreement, he told the assembled congresspeople and senators, would leave Tehran with "a vast nuclear infrastructure" that placed it dangerously close to the ability to break out to a nuclear bomb. It "will not prevent Iran from developing nuclear weapons. It will all but guarantee that Iran will get nuclear weapons and a lot of them."...
Click here for the complete article, or copy and paste this link into your web browser:
http://www.unitycoalitionforisrael.org/uci_2014/?p=13404
---
Netanyahu says he gave 'practical alternative' to Iran deal
Associated Press
YNet News

, March 04, 2015
Israeli Prime Minister Benjamin Netanyahu said Wednesday his speech to the US Congress offered a "practical alternative" to a possible Iranian nuclear deal and that lawmakers now "understand better" why the deal is bad.

Netanyahu's assertion came after President Barack Obama said the Israeli leader had offered no viable alternative to preventing Iran from getting nuclear weapons.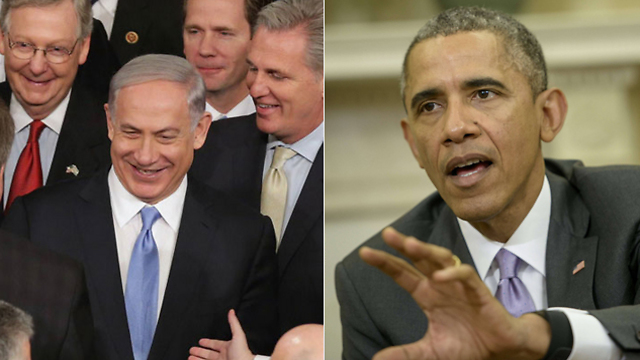 Netanyahu and Obama go head to head.
(Photo: AFP, Reuters)

"There was nothing new" in the speech, Obama said. He said Netanyahu made almost the same speech when he warned against the interim deal reached with Iran, but that the interim deal has resulted in a freeze and rolling back of Iran's nuclear program.

In a statement released after he landed in Israel, Netanyahu said the alternative deal he presented in Congress would make it harder for Iran to get the nuclear bomb.

"I proposed a practical alternative with tougher restrictions that would extend the breakout time by years. It would take Iran longer to develop a nuclear weapon if it decides to breach the agreement," the Israeli prime minister said.

He said his proposal would also maintain restrictions until Tehran stops "its sponsorship of terrorism around the world, its aggression against its neighbors and its calls for Israel's destruction."...
Click here for the complete article, or copy and paste this link into your web browser:
http://www.unitycoalitionforisrael.org/uci_2014/?p=13405
---
Netanyahu's speech
Jpost Editorial
jpost.com

, March 03, 2015
Saying Prime Minister Benjamin Netanyahu's address to the US Congress was well-received would be an understatement. Netanyahu was interrupted dozens of times with applause, many of them standing ovations. The several dozen Democratic lawmakers who decided not to attend were hardly missed. US Senate Democratic leader Harry Reid, who has not been well, made a special effort to attend.

Congress's ecstatic reception of the speech was not just a function of Netanyahu's virtuoso orating – though it was undoubtedly a contributing factor. There is also a deep recognition in Congress that the US and Israel share core values and aspirations and that the two countries stand for the same basic ideals.

A large part of Netanyahu's speech was a reprise of what have become well-worn criticisms of the nuclear deal with Iran, whose essential contents have become known due to leaks by sources close to the Obama administration and by representatives of the P5+1 countries (the US, the UK, France, Russia, and China plus Germany). As Netanyahu pointed out, apparently in response to warnings by US President Barack Obama, nothing he was stating was based on classified intelligence information shared in confidence by the US with Israel, but was readily available on Google.

Netanyahu reminded US lawmakers – who belong to what Netanyahu referred to as the world's most important legislature – why the deal believed being offered to the Islamic Republic is bad.

First and foremost was the sunset clause, which essentially legitimates Iran's nuclear weapons program within 10 years, with perhaps a five-year phase-out period tacked on. This, rightly noted Netanyahu, might seem like a long time in politics but is the blink of an eye in the lives of nations or for our children....
Click here for the complete article, or copy and paste this link into your web browser:
http://www.unitycoalitionforisrael.org/uci_2014/?p=13406
---
Netanyahu: 'The greatest danger facing our world is the marriage of militant Islam with nuclear weapons'
Robert Spencer
jihadwatch.org

, March 03, 2015
A powerful speech. We can only hope that it will be enough to stop Obama from making his disastrous deal with Iran. "We must all stand to get to stop Iran's march of conquest, subjugation, and terror," said Netanyahu. But will the U.S. under Obama stand with Israel and the free world?

"Netanyahu: Deal will pave way to Iranian nuclear bomb," by Stephen Collinson, CNN, March 3, 2015:

Washington (CNN )Israeli Prime Minister Benjamin Netanyahu warned Tuesday that a proposed deal between world powers and Iran would not stop Tehran getting nuclear weapons — but would rather guarantee it got lots of them and leave the Jewish State in grave peril.

In a dramatic speech before a joint session of the U.S. Congress, which has caused a furious row with the Obama White House, Netanyahu said that the proposed agreement would allow Iran's breakout time — the period that it would take to race to a nuclear weapon — to be much shorter than the one year that the U.S. administration is aiming for.

He also made a case that Tehran was embarked on a long covert terror war against the United States and Israel as well as playing "hide and cheat" to conceal the true extent of its nuclear program.

"The greatest danger facing our world is the marriage of militant Islam with nuclear weapons," Netanyahu said....
Click here for the complete article, or copy and paste this link into your web browser:
http://www.unitycoalitionforisrael.org/uci_2014/?p=13407
---
Israel Speaks for the Sunnis
the-american-interest.com

, March 03, 2015
Today [Wed. Mar 3rd] we witnessed something in Congress that most of us would not have expected to see in our lifetimes: an Israeli Prime Minister came to Washington not just as the voice of Israel, but also of much of the Sunni Arab world. Bibi Netanyahu's speech, excepting a few rhetorical references, was a crystallization of the policy that every Sunni, non-Iran-dominated capital holds today as well as Jerusalem.

The Gulf Arab nations were not mentioned very often, but they loomed large in the background. (The Washington Post has the full transcript.) Bibi's analysis of Iran's recent progress in its hegemonic quest, his case that the oil crash gives the West fresh leverage when combined with sanctions, and his warning that this agreement would lead to a regional nuclear arms race—the King of Saudi Arabia would have said much the same. The oil crash, in fact, was Riyadh's geopolitical masterstroke, aimed squarely at Tehran.

This is the ironic accomplishment of the Obama Administration. Both Israel and the Sunni Arab states have become so alarmed by Iranian advances and the receding (as they see it) American security guarantees that they have made common cause. Both want Iran's nuclear and conventional ambitions stopped (notice Bibi mentioned both today), and both want, as the late King of Saudi Arabia said, the head cut off the snake. Today, Bibi spoke not just for Israel, but for many of its Arab neighbors, too.
Click here for the complete article, or copy and paste this link into your web browser:
http://www.unitycoalitionforisrael.org/uci_2014/?p=13408
---
President Obama, listen to Netanyahu on Iran
Faisal J. Abbas
english.alarabiya.net

, March 03, 2015
...The Israeli PM managed to hit the nail right on the head when he said that Middle Eastern countries are collapsing and that "terror organizations, mostly backed by Iran, are filling in the vacuum" during a recent ceremony held in Tel Aviv to thank outgoing IDF Chief of Staff Lt. Gen. Benny Gantz for his role during "challenging" times.

In just a few words, Mr. Netanyahu managed to accurately summarize a clear and present danger, not just to Israel (which obviously is his concern), but to other U.S. allies in the region.

What is absurd, however, is that despite this being perhaps the only thing that brings together Arabs and Israelis (as it threatens them all), the only stakeholder that seems not to realize the danger of the situation is President Obama, who is now infamous for being the latest pen-pal of the Supreme Leader of the World's biggest terrorist regime: Ayottallah Ali Khamenei. (Although, the latter never seems to write back!)

Threat bigger than nuclear ambitions

Just to be clear, nobody disagrees that ridding Iran of its nuclear ambitions is paramount. And if this can be achieved peacefully, then it would be even better. However, any reasonable man CAN'T possibly turn a blind eye to the other realities on the ground.

Indeed, it is Mr. Obama's controversial take on managing global conflicts that raises serious questions. A case in point is his handling of the Syrian crisis, where according to his own philosophical views, Obama probably takes pride that he managed to rid the Assad regime of its chemical weapons arsenal without firing a single bullet.

Of course, in theory, this could be quite an achievement (which only another war philosopher, such as Sun Tzu, would applaud); but in reality, the problem with what happened is that the REAL issue hasn't been resolved; as such, the Syrian regime continues – until this day – to slaughter their own people (albeit, using conventional weapons, you know… your everyday bullets, missiles and barrel bombs!)...
Click here for the complete article, or copy and paste this link into your web browser:
http://www.unitycoalitionforisrael.org/uci_2014/?p=13409
---
Rouhani Says Iran Will Never Accept Deal Which Deprives Country of Nuclear Power
David Daoud
algemeiner.com

, March 04, 2015
...Rouhani expressed his hope in the meeting that the six world powers negotiating with Iran would come to realize the critical situation in which the Middle East finds itself, and therefore adopt a "reasonable" approach towards Iran's nuclear program.

Rouhani further noted that only the "occupying regime" in Jerusalem – a reference to the State of Israel – is unhappy with the talks and the progress being made. But he added that the wisdom of the American people and the world would prevent them from being dragged by the "warmongering regime" into violent confrontation with Iran.

Rouhani ended by saying that the p5+1 are well aware that they face one of two options: either sign a deal with Iran, and the earlier the deal is reached the better, or be faced with the possibility of a much speedier development of Iran's "peaceful" nuclear program [Sounds like a serious threat to me. This statement really clarifies this dire situation.].
Click here for the complete article, or copy and paste this link into your web browser:
http://www.unitycoalitionforisrael.org/uci_2014/?p=13411
---
---