Click here to search our archives of over 200,000 news articles, action alerts, press releases and special reports.



---
Editor's Note:
Friday March 27, 2015
COL. ALLEN WEST speaks with Fox Business host Stuart Varney.
President Barack Obama is steering U.S. foreign policy toward an alliance with Iran, shunning traditional U.S. allies such as Israel, Egypt, Jordan, and Saudi Arabia.
YouTube video - 03:48 (Mar 24, 2015)

BOEHNER Warns Against Arbitrary Deadlines in Afghanistan
Following an address by Afghanistan President Ashraf Ghani to a joint meeting of Congress, Speaker Boehner once again warned against any arbitrary deadlines that would compromise the gains U.S. and Afghan forces have made in that country, or undermine our success in completing the mission.
YouTube video - 00:57 (Mar 26, 2015)



Source: DEBKAfile (Mar 26, 2015)
We encourage you to forward our newsletters to your friends and other interested individuals and organizations. Click here to use our newsletter forwarding system
---
Contents: (summaries below)
---
GERMAN NEWS REPORT: Co-Pilot of Germanwings Airbus Was MUSLIM CONVERT …'Hero of Islamic State'?
Jim Hoft
thegatewaypundit.com

, March 26, 2015
Police have reportedly found an "item of significance" at the apartment of the co-pilot who crashed the Germanwing passenger plane into the Alps this week.

The item was NOT a suicide note.


28-year-old German Andreas Lubitz trained in Phoenix, Arizona and pictured here in San Francisco.

A German news website claims Andreas Lubitz was a Muslim convert.

Speisa.com reported:

According to Michael Mannheimer, a writer for German PI-News, Germany now has its own 9/11, thanks to the convert to Islam, Andreas Lubitz.

Translation from German:

All evidence indicates that the copilot of Airbus machine in his six-months break during his training as a pilot in Germanwings, converted to Islam and subsequently either by the order of "radical", ie. devout Muslims , or by the order from the book of terror, the Quran, on his own accord, decided to carry out this mass murder. A radical mosque in Bremen in which the convert was staying often is in the center of the investigation, it can be assumed that he – as Mohammed Atta, in the attack against New York – received his instructions directly from the immediate vicinity of the mosque....
Click here for the complete article, or copy and paste this link into your web browser:
http://www.unitycoalitionforisrael.org/uci_2014/?p=13540
---
Netanyahu's mandate to lead
Dr. Haim Shine
israelhayom.com

, March 22, 2015
Last Tuesday's elections resulted in a decisive and unequivocal victory for Prime Minister Benjamin Netanyahu and the Likud party. Nearly a million Israelis cast their ballots for Likud, democratically determining that Netanyahu will be prime minister and Zionist Union leader Isaac Herzog will head the opposition. Any other scenario would mark a violation of the fundamental principles of democracy. The elections were referendum on Netanyahu. Do you support him -- yes or no? The public's answer was yes.

The election results showed the public's clear desire for the establishment of a right-wing government. Such a government will enable Israel to deal with the security, economic and social challenges it faces. These challenges will not wait until the right-wing parties finish their bargaining over the ministerial portfolios.

The citizens of Israel have proven they are not naïve. They do not buy spin, tricks and shticks. In light of the election results, the heads of the parties negotiating with Likud for positions in the coalition must show some modesty. They should realize that arrogance is a vice and learn the lesson of Yesh Atid leader Yair Lapid, who was blinded by the results of the 2013 elections. And the heads of the parties negotiating with Likud this time have only half or a third of the seats Lapid had last time....
Click here for the complete article, or copy and paste this link into your web browser:
http://www.unitycoalitionforisrael.org/uci_2014/?p=13541
---
The Next Crisis? United States Might Limit Aid to Israel by Amount it Spends on Settlements
David Daoud
algemeiner.com

, March 24, 2015
The State Department might be attempting to limit the loan guarantees Israel receives from the United States, based on Israel's expenditures on West Bank settlements, according to an Israeli media report published on Tuesday.

Israel's Walla news said that the State Department will be submitting a brief to Congress detailing Israel's investment in settlements over recent years – purportedly in the billions of dollars.

Officials familiar with the report currently being formulated told Walla that after this move in Congress, Israel might remain with a "very limited" amount of financial guarantees. The effect of offsetting the guarantees would only be felt by Israel when it actually seeks to use them, for example when there is an economic or security crisis. The last time Israel sought to use its loan guarantees from the US was a decade ago, in 2005....
Click here for the complete article, or copy and paste this link into your web browser:
http://www.unitycoalitionforisrael.org/uci_2014/?p=13542
---
Israel freezing construction in East Jerusalem neighborhood
Roi Yanovsky and Itamar Eichner
ynetnews.com

, March 25, 2015
Israel is freezing construction of 1,500 new housing units in the East Jerusalem neighborhood of Har Homa, beyond the Green Line, despite Prime Minister Benjamin Netanyahu's election eve declaration that building in Jerusalem would continue regardless of international pressure.

The massive construction plan in Har Homa has been suspended "for neither planning nor professional reasons," Ynet has learned.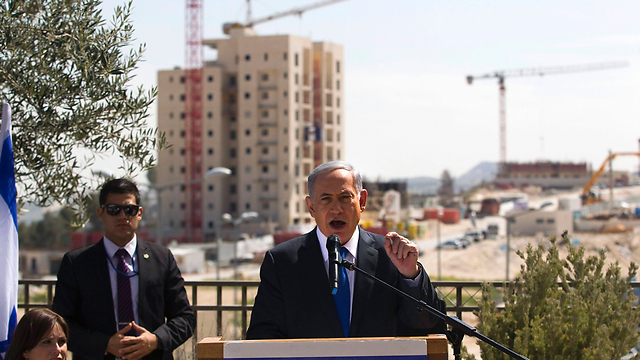 Netanyahu speaking in Har Homa last week
(Photo: Reuters)

The Ministry for Construction and Housing and Jerusalem municipality confirmed that two critical planning discussions set for the coming week on advancing the construction have been canceled for unknown reasons.

Planning officials familiar with the details of the plan told Ynet that the program is not being advanced due to political sensitivity and that there had been no approval from the Prime Minister's Office to hold the planning discussions....
Click here for the complete article, or copy and paste this link into your web browser:
http://www.unitycoalitionforisrael.org/uci_2014/?p=13543
---
Opening New Iraq Front, U.S. Strikes ISIS in Tikrit
Rod Nordland and Peter Baker
nytimes.com

, March 25, 2015
BAGHDAD — American warplanes began airstrikes against Islamic State positions in Tikrit late Wednesday, finally joining a stalled offensive to retake the Iraqi city as American officials sought to seize the initiative from Iran, which had taken a major role in directing the operation.

The decision to directly aid the offensive was made by President Obama on Wednesday, American officials said, and represented a significant shift in the Iraqi campaign. For more than three weeks, the Americans had stayed on the sideline of the battle for Tikrit, wary of being in the position of aiding an essentially Iranian-led operation. Senior Iranian officials had been on the scene, and allied Shiite militias had made up the bulk of the force.

Mr. Obama approved the airstrikes after a request from Prime Minister Haider al-Abadi on the condition that Iranian-backed Shiite militias move aside to allow a larger role for Iraqi government counterterrorism forces that have worked most closely with United States troops, American officials said. Qassim Suleimani, the commander of the Quds Force of Iran's Islamic Revolutionary Guards Corps who has been advising forces around Tikrit, was reported on Sunday to have left the area.

The United States has struggled to maintain influence in Iraq, even as Iran has helped direct the war on the ground against the Islamic State. But as the struggles to take Tikrit mounted, with a small band of Islamic State militants holding out against a combined Iraqi force of more than 30,000 for weeks, American officials saw a chance not only to turn the momentum against the Islamic State but to gain an edge against the Iranians....
Click here for the complete article, or copy and paste this link into your web browser:
http://www.unitycoalitionforisrael.org/uci_2014/?p=13544
---
Are the Iran Nuclear Talks a Hostage Negotiation?
Jonathan S. Tobin
commentarymagazine.com

, March 25, 2015
With one week left before the current deadline for the end of the nuclear talks with Iran, the administration's desperation to cut a deal with Tehran is fairly obvious. The reason why the Iranians have stood their ground on the last sticking points stems from President Obama's history of retreating on every issue when pressed to do so, leading the Iranians to believe they can count on him making a few more concessions in order to secure the agreement. But according to Politico, they have another motive for expecting the West to give way again on measures that might conceivably limit their ability to cheat their way to a bomb. Instead of just taking advantage of Obama and Secretary of State Kerry's zeal for a deal, they also have the ability to threaten mayhem throughout the Middle East if they don't get their way. Possible Iranian threats against U.S. personnel in Iraq may be turning the nuclear talks into as much of a hostage negotiation as anything else.

As Politico's sources within the administration make clear, U.S. officials are worried that a breakdown in the nuclear talks could lead to attacks against Americans in Iraq from Shiite militias or others doing Iran's bidding. Iran has become a de facto ally of the United States in the battle against ISIS. But as problematic as relying on an Islamist regime that sponsors terrorism to fight Islamist terrorists may be, this arrangement also leaves the 3,000 U.S. personnel sent to Iraq as advisers and trainers for the forces fighting ISIS vulnerable to Iranian revenge if the president doesn't do as they demand in the nuclear talks....
Click here for the complete article, or copy and paste this link into your web browser:
http://www.unitycoalitionforisrael.org/uci_2014/?p=13545
---
Tajik IS Militants Threaten 'Jihad' At Home (Or Even In The Kremlin)
Joanna Paraszczuk
bignewsnetwork.com

, March 23, 2015
A group of Tajik militants who claim to be fighting with the Islamic State (IS) group in Syria has posted a new video in which it threatens to transfer its activities from the Middle East and fight in Tajikistan.

The 16-minute video was shared on the Russian-language Odnoklassniki social network on March 19 and shows a group of 16 masked militants, most of whom appear to be Tajiks. It is not possible to independently verify the date or the exact location in which the video was shot.

Tajikistan's security authorities have yet to comment on the video, Radio Ozodi reported.

One masked militant said that the video was the militants' final address from Syria and Iraq and that their next video could be filmed "from the mountains of Tavildara in central Tajikistan, or the Tajik capital, Dushanbe -- or even from the Kremlin."...
Click here for the complete article, or copy and paste this link into your web browser:
http://www.unitycoalitionforisrael.org/uci_2014/?p=13546
---
ISIS hacking group: We're inside military websites
Cory Bennett
thehill.com

, March 25, 2015
The Islamic State in Iraq and Syria (ISIS)-affiliated hacking group taking credit for posting a hit list of 100 U.S. service members claims it has access to numerous U.S. military domains.

The comments came via an electronic chat with Motherboard and were made in response to Monday's Daily Beast story, which showed the hackers could have created most of their list by Googling self-promotional Defense Department websites.

"lol" the person told Motherboard after reading The Daily Beast article. "Clearly whoever wrote that didn't read the leak."

The hacker, who claimed to represent the Islamic State Hacking Division (ISHD), said he had scanned .mil domains and discovered "many of them" use outdated content management systems (CMS), which is how website managers update the site's content....
Click here for the complete article, or copy and paste this link into your web browser:
http://www.unitycoalitionforisrael.org/uci_2014/?p=13547
---
---